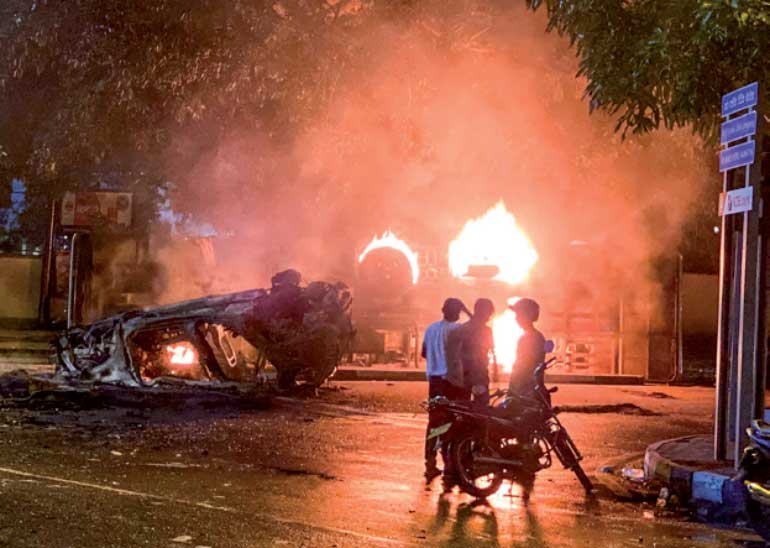 Rajapaksa's ancestral home at Medamulana and homes of several SLPP politicians set ablaze by angry crowds
Violence unleashed by MR supporters boomerang as people turn on them
President camps curfew effective till Wednesday to bring situation under control
At least five including ruling party MP dead in violence with nearly 200 injured
Crowds gather outside Temple Trees late into the night as Police fire tear gas to bring situation under control
---
By Chandani Kirinde
---
President Gotabaya Rajapaksa clamped a countrywide two-day curfew last night in a bid to stop escalating violence across the country which saw houses and offices of more than 15 ruling party politicians set on fire and crowds attempting to break into Temple Trees where Prime Minister Mahinda Rajapaksa and his family were reportedly staying.

Army and police personnel battled crowds that had surrounded the Prime Minister's official residence, firing tear gas several times to disperse the crowd but many of the angry protestors remained in the vicinity. They also fired into the air in a bid to disperse the crowd.

At least five persons including SLPP Polonnaruwa MP Amarakeerthi Athukorala died in a shooting incident as violence flared across the country.

The violence began when a large group of supporters of Mahinda Rajapaksa who were brought in buses to Temple Trees by SLPP local government politicians and trade unionists turned on the anti-Rajapaksa protestors.

The violence began after Mahinda Rajapaksa addressed the crowd inside Temple Trees where he remained defiant saying he was not afraid of any challenge following which the crowds spilled over to the streets and began attacking protesters who had camped outside Temple Trees. Police made little effort to control the crowd who then began to march towards Galle Face Green where peaceful protests were being held for close to a month.

Here they rampaged through the Gota Go Home village that had been set up in front of the Presidential Secretariat, beating some of those in the vicinity and destroying everything in their path turning Galle Face Green into a battlefield.

Police fired tear gas and water cannons to disperse the crowds and called in the army to help disperse the crowd. A heavy army presence continued as the anti- Rajapaksa supporters regrouped and recommenced their campaign.

The violence which began at Galle Face soon began to spread to other parts of the country with attacks on buses carrying Mahinda Rajapaksa's supporters who were heading back to their homes. Properties belonging to several SLPP politicians were damaged or set on fire.

The ancestral home of the Rajapaksa family in Medamulane, Hambantota and Mahinda Rajapaksa's residence in Kurunegala were set ablaze while homes and offices of at least 15 SLPP politicians suffered the same fate.

These include the homes of SLPP MPs Bandula Gunawardena, Prasanna Ranatunga, Channa Jayasumana, Kokila Gunawardena, Arundika Fernando, Nimal Lanza, Tissa Kuttiarachchi, Kanaka Herath, Pavithra Wanniarachchi, Gamini Lokuge, Kanchana Wijesekera.

The President's office announced that the curfew that came into effect at midnight will continue till 7 a.m. on Wednesday.