The Opposition and SJB Leader Sajith Premadasa yesterday called for the resignation of the President alongside that of Prime Minister Mahinda Rajapaksa.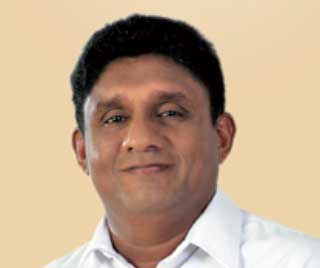 Opposition Sajith Premadasa
Premadasa who was also subject to attack when he approached Galle Face, said the President and Prime Minister are both fully responsible for the crisis in the country.
The opposition leader added that protestors at 'GotaGoGama' and 'MainaGoGama' had engaged in their program peacefully for over a month and that no civilized society will condone the violence that was unleashed on the protesters yesterday.

Premadasa blamed the President and the Prime Minister for the attack and added there can be no solution short of their resignations to control the ensuing situation. The declaration of emergency, then summoning goon squads to Temple Trees and thereon unleashing terror on peaceful protestors demonstrates the organised train of events, he charged.

He added that the resignation of the President alongside the Prime Minister will help calm protestors and quell the wave of violence that has gripped the country since. Premadasa called on everyone to act with restraint.