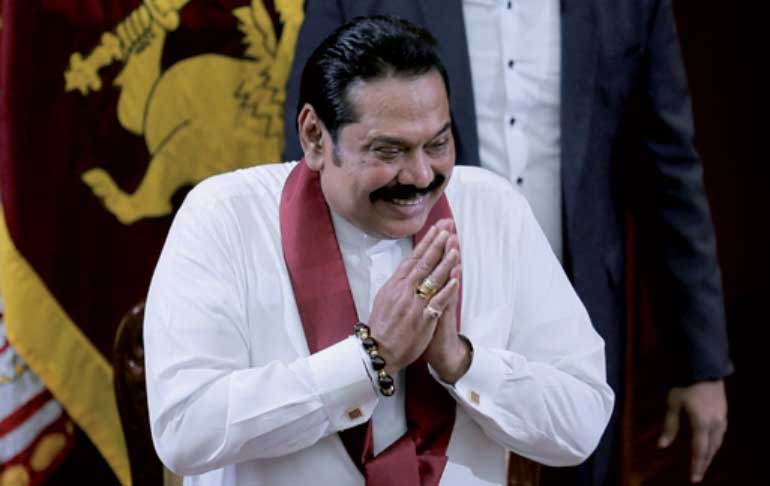 Prime Minister Mahinda Rajapaksa
Cabinet stands dissolved as PM steps down
MR's supporters invited to Temple Trees to urge him to remain as PM unleash violence
When asked should he step down or stay, supporters cheer he must continue
Attacks begin soon after Mahinda tells supporters he does not run away from challenge
Said his resignation was to help the President to set up an interim council
Post attacks by SLPP supporters calls for calm; claims violence only begets violence
Prime Minister Mahinda Rajapaksa yesterday eventually resigned as mayhem unfolded on the streets after hundreds of his supporters bussed in from different parts of the country to Temple Trees to support the PM unleashed violence on peaceful protestors.

With the Prime Minister's resignation, the cabinet of Ministers stands dissolved.

The Prime Minister sent his resignation letter last afternoon to President Gotabaya Rajapaksa shortly after he addressed his supporters during which he remained defiant saying he was someone who had never run away from a challenge but was willing to make any sacrifice to enable the country to overcome the ongoing economic crises. When asked whether he should quit or stay, his supporters cheered him to continue.

"The President will decide on the setting up of an interim Government and I will make any sacrifice if it is needed," Rajapaksa said.

His resignation came after weeks of speculation with the call for him to step down coming from within a section of the ruling Sri Lanka Podujana Peramuna (SLPP). However, he remained defiant amidst calls for him to step down till last Friday when the President requested him to do so.

In his resignation letter, Mahinda Rajapaksa said that in keeping with the request made by the President for him to facilitate the setting up of an all-party interim government, he was resigning with immediate effect.

Rajapaksa said he is hopeful that all parties in parliament will support the formation of a government so that the economic problems faced by the people can be overcome soon.

Soon after his speech, his supporters spilled over to Galle Road where in front of his official residence a small group of peaceful protestors have been campaign for the past week calling on him to resign and attacked the protestors and destroyed their tents with which began at the violence that spilled over to the streets across most areas of the country by last night.

Shortly after the violence began, Rajapaksa called for calm urging the general public to exercise restraint and reminded that violence only begets violence but by them the violence had begun to spread to many areas.