---
A top UN official yesterday urged Sri Lanka to step up promotion and advocacy post-Easter Sunday setback, saying it was everyone's responsibility to tell the world it was a safe, environmentally-conscious, fantastic and gorgeous island that is a must-visit destination.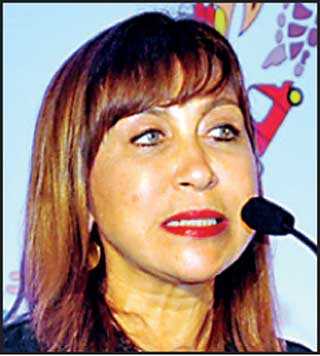 UN Resident Coordinator and UNDP Resident Representative in Sri Lanka Hanaa Singer


Speaking at the launch of Cinnamon Hotels and Resorts' "Bring A Friend Home" promotion, UN Resident Coordinator and UNDP Resident Representative Hanaa Singer stressed that tourism was a vital contributor for economic growth.

"Post-Easter Sunday setback, aggressively promoting Sri Lanka is need of the hour. At this juncture, Sri Lanka really needs more promotion and advocacy. It is the responsibility of each and every individual living in Sri Lanka, overseas Sri Lankan expatriates, and businesses, to promote Sri Lanka as a safe, environmentally conscious and fantastic, gorgeous island, which is a must-visit," she said.

"Like many Sri Lankans and many around the world, I was shocked and devastated by the Easter Sunday attacks, and I feel it more, as an Egyptian from a country that has suffered so much from these terrorist attacks. Tourism cuts across so many different walks of lives, and it involves many different economic sectors and socioeconomic elements. At this time, Sri Lanka needs its friends to talk about her beauty, and most importantly about her resilience," Singer said.

"Yes, we can, and yes, we will restore our number one position again," she added.

According to her, the tourism sector accounts for 5% of the country's GDP, and as one of the fastest growing economic sectors in the world, tourism is recognised as a vital contributor of job and wealth creation for economic growth, environmental protection, and poverty alleviation.

In addition to the sustainable development and the tangible economic benefits, she said tourism also creates mutual understanding among people of all walks of life. Therefore, she said it was very timely that the Cinnamon Group has chosen the International Day of Friendship to launch this campaign.

"With this particular promotion campaign, it is really important to lend the voice to promote tourism globally from both UN level as well as from an individual level advocacy," she said.