---
By Charumini de Silva

Marking yet another innovative initiative to boost tourism, Cinnamon Hotels and Resorts yesterday unveiled the 'Bring A Friend Home' promotion, coinciding with World Friendship Day.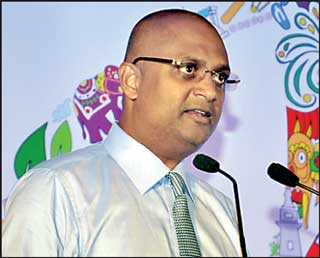 John Keells Group Vice President, Cinnamon Hotels and Resorts Head of Brand Marketing and Cinnamon Life Mall CEO Dileep Mudadeniya

- Pic by Sameera Wijesinghe


The key objective of this campaign is to communicate a sense of urgency to visit Sri Lanka and create user-generated content, to spread the message that the country is now safe to visit. The campaign is set to expedite the tourism arrivals to the country, and is part of Cinnamon's contribution towards the recovery process. Launched with the active participation of all local industries, Cinnamon is engaging both local and foreign tourists, taking ownership for creating exemplary change across the tourism sector.

John Keells Group Vice President, Cinnamon Hotels and Resorts Head of Brand Marketing and Cinnamon Life Mall CEO Dileep Mudadeniya said they aim to create much-needed enthusiasm and excitement for Sri Lanka once again, as an experiential travel destination.

"It is a promotional campaign initiated with the overarching objective of reviving tourism in Sri Lanka, and communicating a sense of urgency to visit the island," he added.

Mudadeniya explained that as corporates, they have to contribute to ensure that the industry recovers fast, without waiting until the Government get its act together. "We need to support the initiatives of the Government, but it is our duty as well to do our part and contribute to the revival process of the industry," he asserted.

The initiative prompts not only Sri Lankans living here, but Lankan expatriates overseas, to nominate foreign friends to visit the island over the next few months. "We want to send a positive message and make every Sri Lankan work as a brand ambassador to this paradise we call home, and invite our friends from around the world," Mudadeniya added.

Foreign Affairs Ministry Economic Affairs and Administration Additional Secretary P. M. Amza said that at the State level, they have sent circulars on this campaign to all foreign missions abroad, as well as through social media platforms and on their website.

He also said that they were working hard on getting the travel advisories changed and lifted.

Noting that over 2.4 million or 12% of Sri Lankans live abroad at present, Amza said that the Ministry's new economic diplomacy program is expected to enable them to play a critical role in bringing in tourism and investments.

Former Miss Sri Lanka and current Bollywood sensation Jacqueline Fernandez will be the first visitor confirmed under Cinnamon's 'Bring A Friend Home' campaign. She will celebrate her birthday in Sri Lanka with 15 of her Bollywood friends during the first week of August to kick-start this promotional campaign. The campaign is backed by SriLankan Airlines, Triad, Colombo Jewellery Stores, eMarketingEye, Cinnamon Air and is supported by Positive Sri Lanka and Love Sri Lanka.