At the packed Daily FT-ICCSL-CIMA Fireside Chat gives resounding vote of confidence to private sector, believes they can deliver growth
Says Govt. has achieved stability, now must set stage for growth transformation
Govt. working to improve liquidity with Rs. 300 b infusion, encourage new sectors to expand
Increase in tradable goods essential to structural change
Stands by fiscal consolidation, emphasises it was essential to meet debt repayment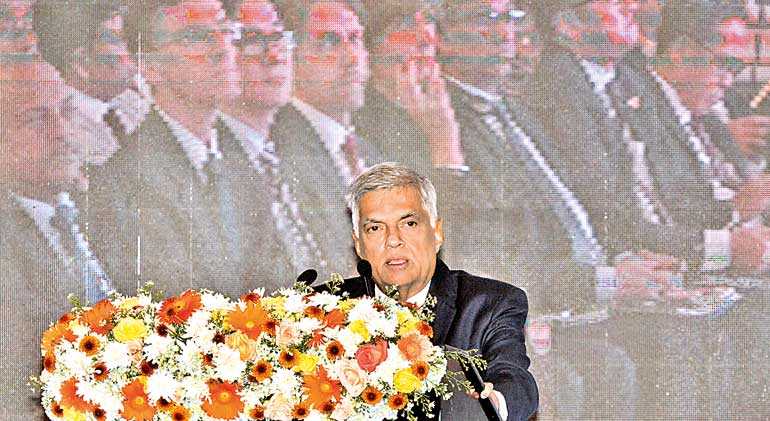 Prime Minister Ranil Wickremesinghe addresses the Fireside Chat 2019 on Tuesday organised by the Daily FT, ICC Sri Lanka and CIMA – Pic by Upul Abayasekara
---
By Uditha Jayasinghe and Charumini de Silva


Delivering a vote of confidence,Prime Minister Ranil Wickremesinghe on Tuesday backed the private sector insisting that as the engine of growth they have what it takes to deliver a stronger economy for Sri Lanka and pledged to provide support for companies to find new paths of advancement.

Speaking at a packed Fireside Chat organised by Daily FT, International Chamber of Commerce (ICC) Sri Lanka and Chartered Institute of Management Accountants (CIMA), PM Wickremesinghe acknowledged that the business environment has been challenging over the past few years but emphasised it was essential for the Government to focus on fiscal consolidation to stabilise the economy and meet steep debt repayment responsibilities.

Nonetheless, he was upbeat that Sri Lanka's economy was currently poised for structural change that would increase the production of tradable goods to put the economy on a sustainable growth path.


"I have a lot of faith in our private sector and we will pull through. Look at our private sector when the British came in and started the commercial economy in the 1860s. By the end of the century we were dominating many sectors. We went through the difficult 70s and the private sector survived that. We have run an economy with a war going on in both the north, and the south and now we are coming from a period of fiscal consolidation. We all have more experience now. Without the private sector we will not grow. You are the engine of growth and you have to keep moving," he said.

Wickremesinghe addressed the second part of the Fireside Chat which earlier on had insightful session with nine Ambassadors/High Commissioners of UK, China, European Union, Switzerland, Canada, Netherlands, Malaysia, Bangladesh,Turkey and Indonesia. Business leader Dhammika Perera joined the Premier during his segment of the Fireside Chat.

Responding to questions on challenges posed by higher taxes and interest rates, the Prime Minister acknowledged policies necessary for fiscal consolidation had presented challenges to companies but called on the private sector to rise above them. He also emphasised that the Government was working on increasing liquidity in the market to provide as much as Rs.300 billion for companies to use for investment and expansion.


He also told the Fireside Chat moderated by ICCSL Chairman Dinesh Weerakkody and Daily FT Editor Nisthar Cassim that the Government would work with State and private banks to adjust interest rates to bridge the gap between current rates and those stipulated by the Central Bank. The possibility of revising some tax policies to encourage new sectors to expand is also being considered.

"You have difficulties. The private sector must complain. If you don't you are not the private sector, then you are complacent, like the public sector," he said to laughter and applause from the audience."Don't be that but keep complaining and we will see how we can make the country a little bit better.

"You have done well. We are for a market-oriented economy and we are looking for a larger role for the private sector to play and no doubt in the coming years that role will expand. You have to learn to compete with the world and that is what we want you all to do. You can succeed. You are good at it. Let's make it possible to deliver the goods. It requires a government and private sector to deliver the goods," he added.


Beginning his remarks to the packed audience with a speech, Wickremesinghe quipped: "It is customary that at a fireside something gets roasted. Anyway, I was at Parliament before I came here so I came partially prepared for the event."

The Prime Minister recapped the economic situation that prevailed when the Government came into power in 2015, which warranted a shifting of gears to prioritise fiscal consolidation. This required increasing public revenue, which necessitated higher taxes and interest rates.

"Looking at some of the problems you have been facing it is not surprising you would want to roast me and the Government but remember we are the only hope. When we took over in 2015 we realised how bad the economy was, how bad it was going to be, and just as much as we wanted growth we realised fiscal consolidation had to get priority. We had a high level of a debt, especially foreign commercial debt, so that meant we had to first get our primary balances positive and get into a position where we could gradually repay the debt."

"Our revenue was down. Our revenue as a percentage of expenditure was only 63.5% in 2015 but today it is 75.1%, which also accounts for some of the complaints from the public and private sector but we had to increase our revenue. We had no other option. All this resulted in a continued deficit in the rupee market from about 2018 but the Central Bank has reduced the Statutory Reserve Ratio (SRR) to address the liquidity shortage. This has resulted in about Rs.150 billion coming into the market. Along with funds from Gamperaliya and Enterprise Sri Lanka we hope this will result in about Rs.300 billion released into the economy in the coming months."


With liquidity increases in the market, the private sector could look at new avenues of expansion, the Prime Minister said, pointing out that Sri Lanka has to make a leap from producing non-tradable goods to a greater portion of tradable goods that would improve exports and attract investment. Such an effort would improve reserves and strengthen Sri Lanka's debt repayment capacities as well and set the stage for the country to move out of the low-middle income category it is currently in.

"We have to hold fiscal consolidation to go ahead. Everyone can talk about making things easier but they must tell us how. How are you going to do it, what are you going to change and what are the consequences? All of us like to be up here to get applauded and make it good for the business community and for the people but now that we have reached the first stage how do we get onto the second stage? That is the transformation of the economy. If we achieve that then by 2030 the country will be able to reduce its debt. I'm not saying it will come down to about 35% of GDP but it may come to about 65% of GDP. If that happens we are home and dry but we have to handle the transformation," he said.

"We are looking at revising some of the tax incentives because new business must flourish and new sectors must grow. Secondly, money must be available to the private sector and there must be cheaper money. These are the basic points we are moving onto. The ease of doing business is more long term but it is necessary. Our investments are growing but I would like it to be much faster."