Jobs and innovation focus best option for Sri Lanka to move beyond middle income status
Well-known businessman Dhammika Perera on Tuesday stressed that Sri Lanka needs to focus on growth that creates jobs and promotes innovation to move forward from the country's current middle income status.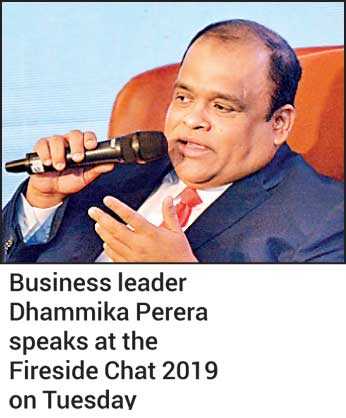 Speaking at the Fireside Chat organised by Daily FT, International Chamber of Commerce (ICC) Sri Lanka and Chartered Institute of Management Accountants (CIMA), Perera pointed out that it was important to focus policy on how to create jobs as it was the most tangible method of experiencing economic growth.



He drew examples from the US where economic development is measured and reported on based on the number of jobs created every quarter rather than numbers.

"When the US economy is evaluated it is not based on percentage points. Everyone talks about growth based on how many jobs have been created. This is a policy that can easily be adopted by Sri Lanka to understand which areas of the economy is really growing and what parts of the economy are really reaching the bottom levels of society. When you know which sectors are really making a difference in terms of income generation, it becomes much easier to create policies that identify new sectors and assist them to grow," he said.

Perera pointed out that Sri Lanka's per capita income, which is about $ 4,000, only grew by $ 50 in the last few years. He noted that for Sri Lanka to grow to become a $ 10,000 or a $ 12,000 per capita country it would take over 160 years at the present rate.


Therefore, he called for Sri Lanka to embrace new technologies that would open up fresh growth avenues as well as make existing industries more competitive.

"Banking is an industry that has been revolutionised by technology. Other industries can find that their operational costs and reach can change for the better with the use of technology. This can also be used for budgeting to ensure that revenues are tracked as companies discharge services. In some of my companies I have given hourly targets. Technology has changed the way we operate."


Organising the economy based on job creation and innovation segments would also help the Government earn revenue without constraining growth, Perera pointed out. He contended that understanding growth sectors would also help the Government to manage revenue earning options better and improve governance.

"The way the Budget is made now is officials look at the growing sectors and slap taxes on them but this is the wrong way to go about it because it impacts growth. If there is strong growth with abundant exports and investment the Government will automatically earn enough revenue. But when they impose taxes for short-term revenue gains then the potential for long term growth gets reduced."