Calls for clarification on use of Army Commander's photographs in GR's election ads

President's Secretary and Defence Secretary asked to show cause in writing

EC Chairman says war, heroic deeds not monopoly of any single party or person

Expects Army Commander to distance himself from such propaganda efforts

Warns public officials to strictly abide by directive issued on abstaining from political work
By Chandani Kirinde

The Election Commission (EC) has written to the Secretary to the President as well as the Secretary to the Ministry of Defence seeking clarification on how a photograph of Army Commander Lieutenant General Shavendra Silva was used in election campaign propaganda for one of the candidates contesting the Presidential Election. The EC's decision to seek clarification came after it received a complaint from the Centre for Monitoring Election Violence (CMEV) on Sunday in relation to a full-page advertisement in support of Sri Lanka Podujana Peramuna presidential candidate Gotabaya Rajapaksa, published in several newspapers using an image and quote from Lieutenant General Silva from 2009. The present Army Commander was a senior military officer serving in the Army at the time.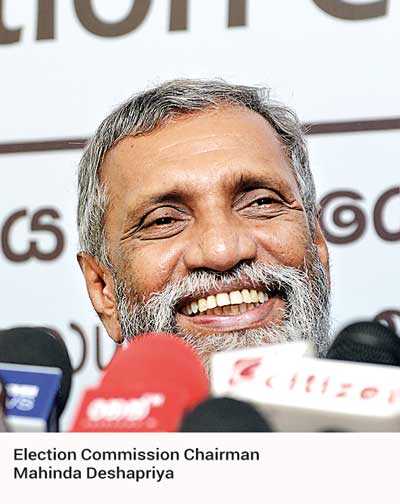 Election Commission (EC) Chairman Mahinda Deshapriya said the use of such material for election propaganda was a violation of both the Code of Conduct issued for contesting political parties and candidates as well as the directive issued to public officials which prohibits them from acting in a manner which promotes or causes prejudice towards any party or candidate.

"It is a deeply regrettable thing. This is not in keeping with the progressive political culture we want to create. We think the Lieutenant General (Army Commander Silva) will issue a statement clarifying the matter. If he does not do so, it will be tantamount to an endorsement of this action," Deshapriya told reporters at a press briefing.

The Code of Conduct for those contesting the election requires them to refrain from using photographs or paintings of public officers, in any manner, to promote parties or candidates.

The EC Chairman said that the use of any photographs of even retired military officers in uniform was prohibited and there was a ban preventing all public officers from engaging in politics while in service.

"War and heroic deeds are not the monopoly of any single party or person. There are people who are not associated with any political party who were involved in the war, who were injured or have died. Even in the previous election we warned against using such material as election propaganda," he said.

Deshapriya also cited the case of when the Indian Election Commission, during the General Election campaign in April this year, stopped the use of images of a captured Indian Air Force pilot who was returned by Pakistan after his aircraft was shot down over the disputed territory of Kashmir.

He said one political party could not claim ownership of war victories or heroic deeds as they belonged to the entire country.

"We expected the Lieutenant General to distance himself from this by now. We have asked for a response and are awaiting that," he said.

Deshapriya said complaints of public officials being engaged in political work would be dealt with severely.

"We will act immediately if we get any such complaints. In this case, an old picture and recording were used so we have given time for clarification," he said.

Deshapriya also issued a warning to the media to desist from reporting in a partial manner ahead of the 16 November poll, saying that any more complaints against State media institutions would be dealt with promptly.

"The EC has the power over State media but with regards to private media, we prefer to work through compromise," he said.

Deshapriya said there were many complaints against private electronic media outlets which defended themselves with the argument that they were privately-owned and could do as they pleased.

"We have to remember that the spectrums they use are sold by the State and hence belong to the public. The Government issues route permits to private buses but that does not mean they can violate traffic rules. The same principle applies to the private media. They use public-owned spectrums and hence are bound to abide by the media guidelines issued by the EC after an election has been announced," he said.