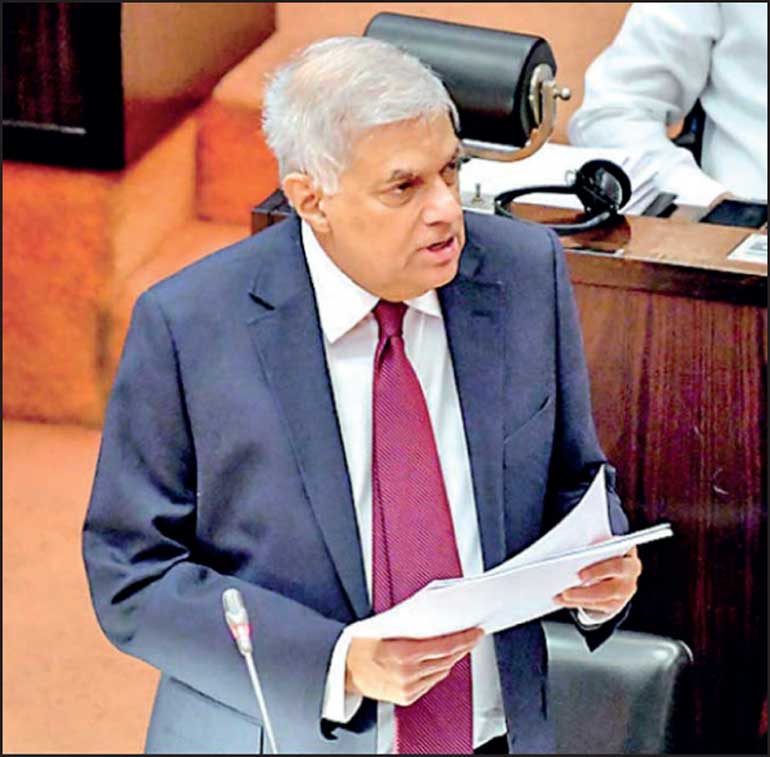 President Ranil Wickremesinghe
---
123 MPs vote in favour, 80 MPs against, 2 MPs abstain
Outcome puts political instability speculation to rest
Passage in Parliament for reforms and recovery-oriented Budget gives boost to President Wickremesinghe
---
The Budget 2023 was passed in Parliament yesterday with a majority of 43 votes thereby giving a boost to President Ranil Wickremesinghe's reforms and recovery course.

During the vote of the third reading, 123 MPs voted in favour including Dr. Sudarshani Fernandopulle and Duminda Dissanayake, whilst 80 voted against and two abstentions from MPs C.V. Wigneswaran and Velu Kumar.

The comfortable passage of the 2023 Budget in Parliament also ended speculation of political instability and division within the Government ranks.

Yesterday marked the end of 24 days of debate on Budget 2023 first presented in Parliament on 14 November by President Wickremesinghe, in his capacity as Finance Minister, aimed at creating long-term stable economic growth.

The 2023 Budget has given special attention to creating this new economy, on three focus areas – an export-oriented competitive economy; an environmentally-friendly green and blue economy; and a digital economy.
It also includes achieving high economic growth of 7%-8%, increasing international trade as a percentage of GDP by over 100%; annual growth of $ 3 billion from new exports from 2023 to 2032; foreign direct investment of over $ 3 billion in the next 10 years and creating an internationally competitive workforce with high skills in the next 10 years.

As per numbers, the Budget 2023 targets a revenue of Rs. 3.4 trillion up from an estimated Rs. 2 trillion this year. Revenue will be 11.3% of GDP up from 8.7% in 2022. The expenditure forecast is a staggering Rs. 5.8 trillion (19.2% of GDP), up from Rs. 4.4 trillion (18.6% of GDP) estimated for 2022. Salaries and wages account for Rs. 1 trillion and for payment of pensions Rs. 375 billion has been allocated.

The debate on the committee stage or the third reading of the 2023 Budget commenced on 23 November following the division on the second reading on 22 November, which was passed by a majority of 37 votes.

During the vote on the second reading, 121 parliamentarians in total voted in favour of the budget while 84 MPs from Samagi Jana Balawegaya (SJB), National People's Power (NPP), Sri Lanka Freedom Party (SLFP), Uttara Sabhagaya led by Wimal Weerawansa and Freedom People's Congress led by Dullas Alahapperuma voted against it. MP Wigneswaran abstained from voting then as well.