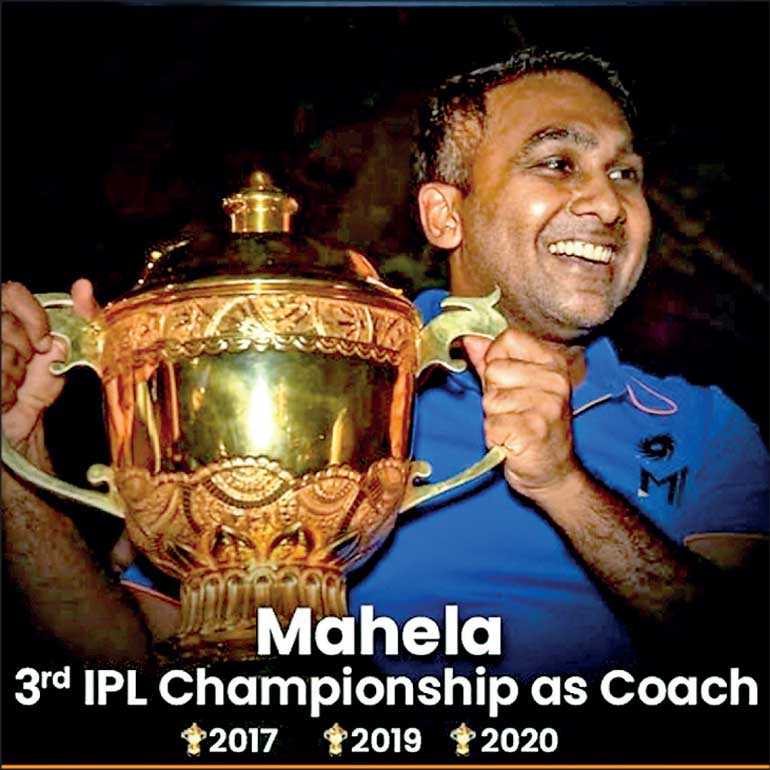 Former Lankan Captain reveals how he plotted Mumbai Indians' win
---
By Sa'adi Thawfeeq
---
Former Sri Lanka Captain Mahela Jayawardena arrived in Sri Lanka from Dubai on Thursday night after guiding Mumbai Indians to a record fourth title in the Indian Premier League. Jayawardena, widely regarded as a master tactician, has been their coach since 2017 when he succeeded former Australian Captain Ricky Ponting to the post. Within a period of four years Jayawardena has guided Mumbai Indians to three titles in 2017, 2019 and 2020. The 2017 and 2019 titles were won off the final ball against Rising Pune Giant and Chennai Super Kings respectively. This year they defeated Delhi Capitals (coached by Ricky Ponting) by five wickets in the final. Mumbai did it without their leading wicket-taker in the IPL Lasith Malinga. Despite his heavy schedule Jayawardena took time off to answer a few questions posed to him by Daily FT
---


Q: What does this IPL victory mean for Mumbai Indians?

It means quite a bit because Mumbai has never won back to back before and which we have done. There was a challenge and there was a notion about us not winning on an even year. There were a few things we needed to make amends. It's a tough tournament to be fair with all the teams and even in the play-offs if you don't play well you will get into trouble. The boys have been quite consistent this year so that probably made it even much memorable the way the guys dominated.


Q: What is it that you need to keep them playing at a consistent level?
You keep challenging the players on improving. The most important thing sometimes is when you are playing well it is easier for them to get complacent and take it easy and, all of a sudden you get into bad habits. For us the important thing was to make sure that they are motivated and especially in an environment which has a biohazard bubble with a controlled environment and to keep them going for an eight-week period that was the challenge that we had.


Q: Was coaching this year's side difficult than the previous years because of the bio-bubble and all that?
Obviously. It's the same group of players. I am not saying that it is difficult in that way but structure wise how we trained, and how we managed the players and activities and all that was quite different to what we could have done in a normal year in Mumbai. That was the difference from any other year.


Q: What is the role that you played in Mumbai's victory?

Just the normal stuff I do behind the scenes. Preparing them, making sure that they are in the right spirit, athletically and when it comes to tactics against different opposition how Mumbai wants to play and challenge the guys to improve every year. Those are the little things that I do.


Q: Are you enjoying your role as a coach?
It's a good challenge for me. I don't get involved in cricket much so therefore this probably is the challenge that I have - the biggest challenge that I have the entire year. I quite enjoy it is something different. I've always enjoyed the tactical side of things. This competition is probably the best T20 competition in franchise cricket. All the best players in the world are playing in it.


Q: What is the different roles you see as being a captain as now as a coach?
It is still leadership roles both ways. In franchise cricket the coach has the say in setting it up tactically and with the selection of teams, players and even at the auction when you are buying players. Those are quite a bit of different stuff that you get involved not in normal way. As captain your role is to lead the team out and make sound decisions. There is a difference in managing and coaching a franchise it is probably more of a manager's role like in football. It's more management of players and making sure that they are in the right spirit.


Q: Would you say that this year's win was easier than last year because last year you won off the last ball?
My last two final victories were both off the last balls. It was much nicer for us to have a much easier game but it is not an easy game when you are in an IPL final.


Q: Will you be coaching Mumbai next year as well?
I have completed four years with Mumbai Indians. My two-year contract ended after this IPL. I don't know about next year. It will be negotiated.