Kahathuduwa MOH says patient with Delta variant detected
Random PCR tests carried out; measures taken to prevent spread
Epidemiology Unit states three patients suspected of having Delta variant
255,508 COVID-19 patients detected to date, includes 31,315 active patients
---
By Shailendree Wickrama Adittiya
---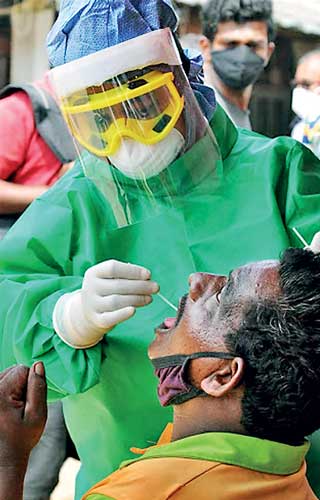 A total of 1,890 COVID-19 patients were yesterday detected in the country, as concerns about the spread of the Delta variant were raised after the Kahathuduwa Medical Officer of Health (MOH) said a patient with the Delta variant had been detected from the area.

According to the Kahathuduwa MOH Dhanuka Pathmaraja, the patient with the Delta variant was employed at a leading construction company in Colombo.

"We suspect he contracted the variant at the construction company. The Epidemiology Unit instructed us to carry out 100 PCR tests at random immediately," he said, adding that steps will be taken to restrict movement so there is no further spread of the variant.

However, the Epidemiology Unit said three COVID-19 cases have been flagged as possibly being the Delta variant and that tests are currently being carried out.

"Since the detection of five persons with the Delta variant, attention has been drawn to three more patients. However, the Epidemiology Unit is yet to receive their reports," Chief Epidemiologist Dr. Ranjith Batuwanthudawa said.

A total of 255,508 persons have tested positive for COVID-19 in Sri Lanka to date.

The patients detected yesterday include 1,850 persons from the New Year cluster and the cumulative patient count of the Divulapitiya, Peliyagoda, Prisons and New Year clusters has risen to 248,119. This includes 153,414 patients from the New Year cluster, 82,785 patients from the Peliyagoda cluster, 7,001 patients from the Prisons cluster, and 3,059 patients from the Divulapitiya cluster.

At present, only the New Year and Prisons clusters are active.

In terms of imported COVID-19 cases, 5,117 Sri Lankan returnees from abroad and 328 foreigners have tested positive for the virus to date. This includes the 1,867 COVID-19 patients detected on Sunday, which includes 1,754 persons from the New Year cluster, 100 Sri Lankan overseas returnees and 13 persons from the Prisons cluster.

In terms of district distribution, 378 patients were from Kalutara, 344 patients were from Gampaha, 271 patients were from Colombo, 84 patients were from Matara, and 71 patients from Galle.

Since the outbreak of COVID-19 in Sri Lanka, 60,942 persons from Colombo, 44,438 persons from Gampaha, 28,100 persons from Kalutara, 13,658 persons from Kurunegala, and 13,194 persons from Kandy have tested positive for the virus.

In the Western Province, 28,645 patients from Colombo, 25,904 patients from Gampaha and 21,042 patients from Kalutara have been detected during the third wave of the pandemic.

At present, 31,315 persons are undergoing medical treatment and hospitals have under observation 1,094 persons suspected of having COVID-19.

The Epidemiology Unit states that 2,251 persons were discharged from hospitals yesterday, bringing the country's COVID-19 recoveries to 221,249.

The Health Promotion Bureau states that 18,008 PCR tests were carried out yesterday.