Tourist arrivals and earnings forecast for rest of 2019 revised upwards in comparison to estimates soon after Easter Sunday setback


By Charumini de Silva

Post-Easter Sunday setback, the tourism rebound is gathering momentum, industry officials said yesterday, though earnings are lagging and a full recovery is still far off.

Revising the estimates on volumes and earnings, officials said they expect a decline of 10% in tourist arrivals from the original estimate of 30% by the end of this year, while projecting a dip of 20% in earnings.

"Looking at the arrival projections for 2019, we hope to get around 2 million to 2.1 million tourists as opposed to 2.3 million in 2018. From an economic perspective, we are looking at $ 1.8 billion compared to 2.1 billion for the first six months. The overall earnings forecast for 2019 is around $ 3.5 billion, down from $ 4.4 billion achieved in 2018. Right now, the financial recovery will take a little longer than the volume recovery that we are looking at," Sri Lanka Tourism Development Authority (SLTDA) Chairman Johanne Jayaratne told journalists.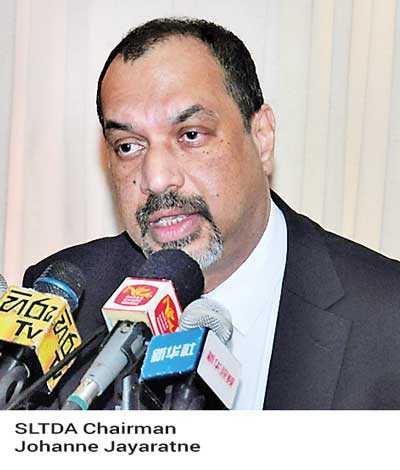 According to him, the number of tourist arrivals during the first seven months recorded a drop of 18.7% to 1.12 million, compared to 1.38 million in the same period last year. However, with the over 25,000 religious visitors expected to participate at the 10-day Global Bohra Convention for Ashara Mubaraka, the SLTDA Chief expects the numbers would bounce back to normal from October onwards.

In April, soon after the Easter Sunday attacks, tourism officials estimated a $ 1.5 billion revenue loss this year, while projecting a 30% drop in arrivals.

Considering the recovery level in countries who faced similar situations, Jayaratne said Sri Lanka has definitely surpassed the recovery time period, especially compared to Bali and Australia.

In this recovery process, he said the aviation industry has been very cooperative in assisting the tourism industry in terms of the discounts and reducing ground handling charges, particularly by SriLankan Airlines. - Pix by Sameera Wijesinghe

However, Jayaratne said the Ceylon Petroleum Cooperation (CPC) is yet to come on board with the reduced fuel prices, which they hope will happen in the very near future.

"There is an issue with the losses CPC is incurring right now, and how it is impacting their bottom-line. There is a bit of a delay on implementing the reduced fuel prices, but it is something very necessary. Apart from the fact that we are facing this crisis, Sri Lanka is probably the highest fuel-priced country in the region, and to develop tourism in Sri Lanka, these factors really needs to be taken into consideration," he pointed out.

Board of Airline Representatives (BAR) Association President Dimuthu Tennakoon said national carrier SriLankan Airlines' prices have been reduced on special markets, and that is now seeing positive results.

"We have given a 10% reduced special rate to India and over 15% rate to China. With the recent promotion campaigns the tourism authorities did in both these markets, we can see the positive outcomes," he added.

He said Indian market flights are fully booked for the season particularly with the Global Bohra Convention participants. In terms of the Chinese market, Tennakoon said student traffic was operating as usual, but travel agent market in China was still recovering.