Says SJB will also initiate a Youth Development Fund and a Youth Entrepreneurship Force
Claims the three components will support in the rebuilding of the nation
Tells youth party will initiate a new form of governance where importance will be given to the country's youth
---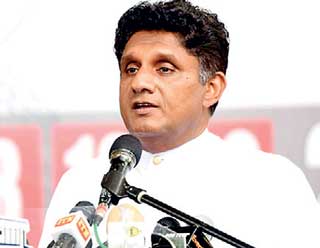 Opposition Leader Sajith Premadasa
---
Opposition Leader Sajith Premadasa has promised to introduce a new Youth Advisory Council to the Samagi Jana Balawegaya (SJB) party led by him. According to Premadasa, the new advisory council will be tasked with creating decisive policies in a future SJB Government.
He also said a Youth Development Fund will be set up for the benefit of the country's youngsters. "However, tax monies or Government revenue will not be utilised for the development fund. Instead, we will introduce a creative program to fund it through international funding and support to ensure the youth do not become a burden on the country and will nevertheless be strengthened," he said.
Premadasa made these remarks while attending the Colombo district meeting of the Samagi Wihidum Balaganaya, a youth organisation linked to the SJB on Sunday.
"The Youth Entrepreneurship Force along with the advisory council and the youth development fund will support in rebuilding the nation. We will hand over the formulation of policies, implementation and review to the youth of this country," he said.

According to him, the Sri Lanka First policy of the party will be created through the leadership of the youth. "We will create a disciplined and law-abiding country where humanity will reign," he added.

Promising more changes in the system to those attending, Premadasa said the SJB will commence a transparent program that will stop all acts of fraud and corruption and facilitate independent State institutions.

He said the SJB will create a generation of export-oriented entrepreneurs. "This will include large scale exporters as well as micro exporters. We are initiating a people-centred economic growth and we will build an export-oriented country," he assured.

"The youth have rights as well as responsibilities. We will initiate a new form of governance where importance will be given to the country's youth," he added.