Says current Govt. has failed to elicit the confidence of the international community and public
Claims no investors will be keen to invest in a country with an unstable Govt.
Notes those who caused the country's downfall are now attempting to appear as its saviours
Opines that only a new Govt. voted in will be able to win over the world and people
---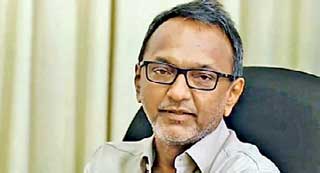 SJB MP Imthiaz Bakeer Markar
---
Samagi Jana Balawegaya MP Imthiaz Bakeer Markar says the current Government has failed to elicit the confidence of the international community and the general public.
According to him, the Government does not have a people's mandate and has been rejected as an extension of the country's former rulers. "This is how the world views this Government," he said.
Bakeer Markar made these comments in Parliament while participating in the Budget debate held yesterday.

"Will the Government be able to win over the international community by employing a fascist repressive policy while speaking of a liberal economic vision? Will the world accept this as a stable Government when it is attempting to hold onto power through oppression while ignoring the aspirations of the people," he asked.

Bakeer Markar said investors will not place their trust in an unstable Government that has not won the confidence of the world and its own citizens. "As a country, if we are to rise again, we have to establish governance with a new mandate that will win the trust of the people. A Government that gets that mandate through a vote will be able to win the trust of the people of the country and the trust of the international community," he said.

Noting that the time for traditional politics is long gone, Bakeer Markar said the citizens and even members of the Opposition must adopt a 'country first' policy and act responsibly to achieve the people's aspirations.

Bakeer Markar accused the Government of quite 'shamelessly' misusing the Police Ordinance and the Prevention of Terrorism Act to oppress the people. "This is a political vendetta against those opposing the Government," he said.

He also said despite the accusations of human rights violations and economic crimes at the United Nations Human Rights Council session, the Sri Lankan Government has failed to take any steps to rectify the situation. "The budget makes no mention of recovering stolen funds through acts of corruption. The President in his budget speech instead gave a message that looking into such acts was not a priority for him," he said.

Listing out the causes of the country's economic crisis, Bakeer Markar said the burden of such decisions leading to the crisis must not be placed on the general public.

Noting the country cannot recover from the crisis even in a year's time, the MP said the same people who caused the destruction of the country are now once again appearing as its saviours, speaking of new policies to rebuild the country.