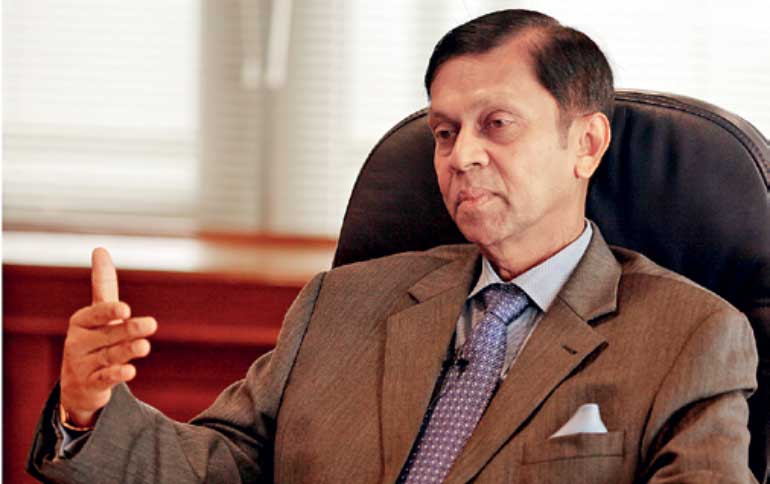 Nivard Cabraal, in this file photo during his second term as the Central Bank Governor. There was no release of a picture of yesterday's appointment by the President's Media Division
---
President Gotabaya Rajapaksa yesterday appointed Ajith Nivard Cabraal as the 16th Governor of the Central Bank of Sri Lanka with effect from tomorrow (15 September).

Cabraal succeeds Prof. W.D. Lakshman, who resigns today after less than two years on the job.

It will be the third term as Governor for Cabraal, having previously served for nine years from 1 July 2006 until his resignation on 9 January 2015.

As a prelude to the new appointment, Cabraal, who was Money and Capital Markets State Minister, resigned from his Parliament seat yesterday morning.
He handed over his letter of resignation to Secretary General of Parliament Dhammika Dasanayake.

Cabraal was appointed as a National List MP from the SLPP after last August's General Election.

A Chartered Accountant by profession, Cabraal was the first Chartered Accountant to hold the position of a Minister in Sri Lanka. He was also a Past President of the Institute of Chartered Accountants of Sri Lanka and also held the positions of President of the South Asian Federation of Accountants.

As an accountancy student in Colombo, Cabraal met current Prime Minister and former President Mahinda Rajapaksa as he was concurrently studying law at Sri Lanka Law College. In 2000, he gained an Eisenhower Fellowship.

Cabraal was Chief Economic Advisor to Mahinda Rajapaksa during the latter's term as Prime Minister, contributing to his manifesto – 'Mahinda Chintana'. In 2005, Cabraal resigned from all his private positions to work full-time for the Government. In February 2006, Cabraal was involved in talks with the Tamil Tigers in Geneva. Cabraal was also the Secretary to the Ministry of Plan Implementation during the first term of then President Mahinda Rajapaksa.