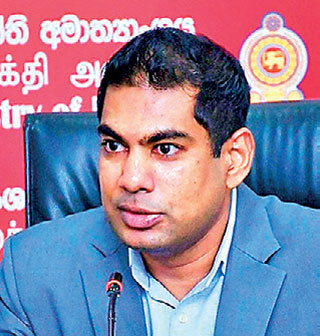 Power and Energy Minister Kanchana Wijesekera
---
Power and Energy Minister Kanchana Wijesekera yesterday outlined the multiple reasons for the State-run Ceylon Petroleum Corporation (CPC) to incur losses.

Taking to Twitter, he highlighted eight key reasons for the massive losses the CPC has incurred.

The first reason was selling products at subsidised rates for years, the second was the rupee depreciation, the third was the dues from State-owned enterprises (SOEs), the fourth reason was high premiums, demurrages and bank interest rates, fifth was excess labour, costs and inefficiency, the sixth reason was the 25% pay hike collective agreement, seventh was a non-operational refinery and high dependency on imports, and the eight cause was the high distribution cost.

As per the Minister, the rupee depreciation has severely impacted the CPC's financial position in multiple ways.

He said for the product purchases made before March, for 90-180 days credit purchased was calculated at Rs. 203, but the payback rate was at around Rs. 367 to Rs. 390. He added that this has also adversely impacted premiums, demurrages and bank interest rates as a result of the ongoing financial crisis.

Minister Wijesekera also said the national carrier SriLankan Airlines owes CPC a total of $ 300 million, whilst the Ceylon Electricity Board owes over Rs. 60 billion.

He claimed CPC has too many employees, who are overpaid, but unproductive. The Minister added that the 25% salary increment since 2012 via the collective agreement has also financially burdened the Corporation.