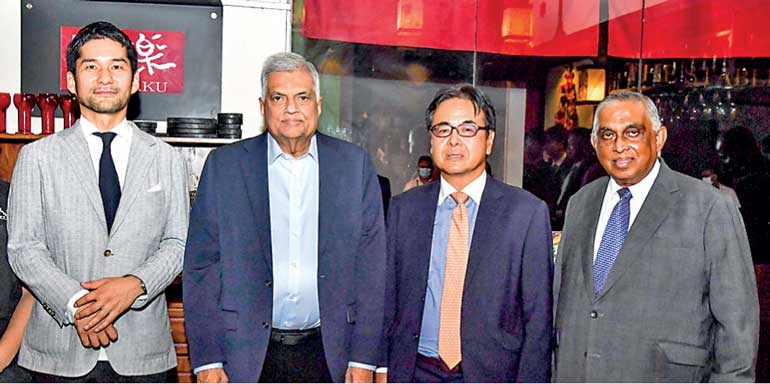 From left: Kuuraku Managing Director Kojiro Honda, President Ranil Wickremesinghe, Japanese Ambassador in Sri Lanka Hideaki Mizukoshi and Kuuraku Director Athulla Edirisinghe
Kuuraku, one of Colombo's top Japanese restaurants, hosted President Ranil Wickremesinghe as the Chief Guest for a ceremonial dinner to commemorate 70 years of diplomatic relations between Japan and Sri Lanka on Tuesday.

The ceremonial dinner was attended by the visiting Assistant Minister of Japan Arima Yuthaka, Ambassador Hideaki Mizukoshi, heads of Japanese associations including the Japan Chamber of Commerce and Industry in Sri Lanka, Japan Solidarity Association as well as heads of several Japanese companies in Sri Lanka. In addition, several embassy officials and owners of restaurants at Park Street Mews also participated in the ceremony.