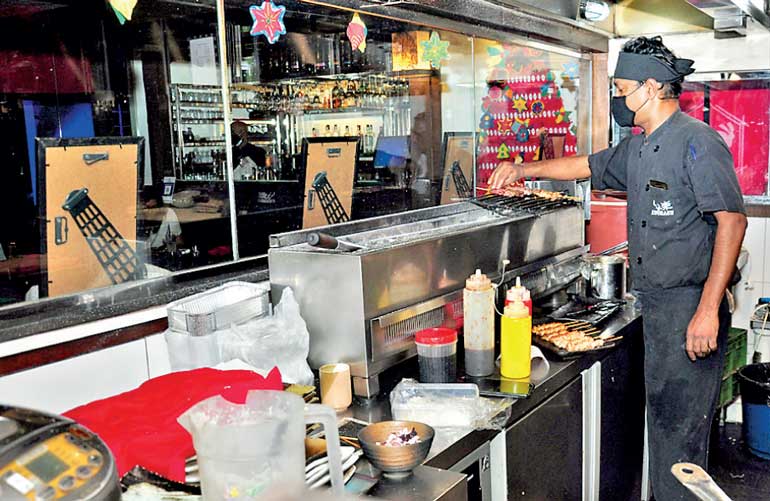 Yakitori in the making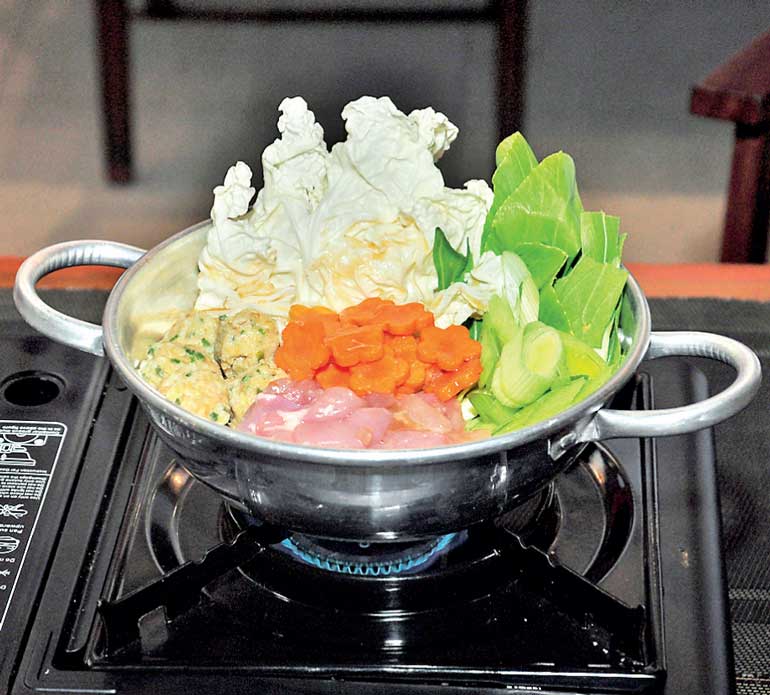 Nabe - Japanese Hotpot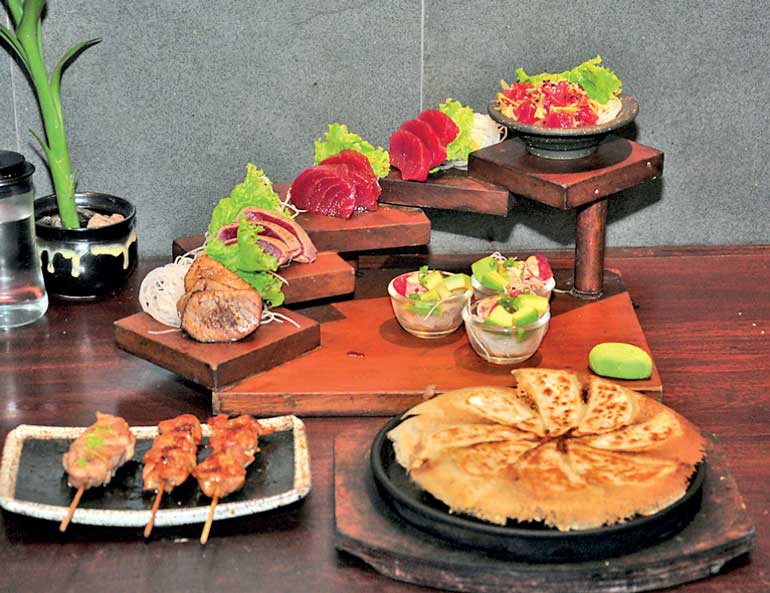 Maguro Tuna Zanmai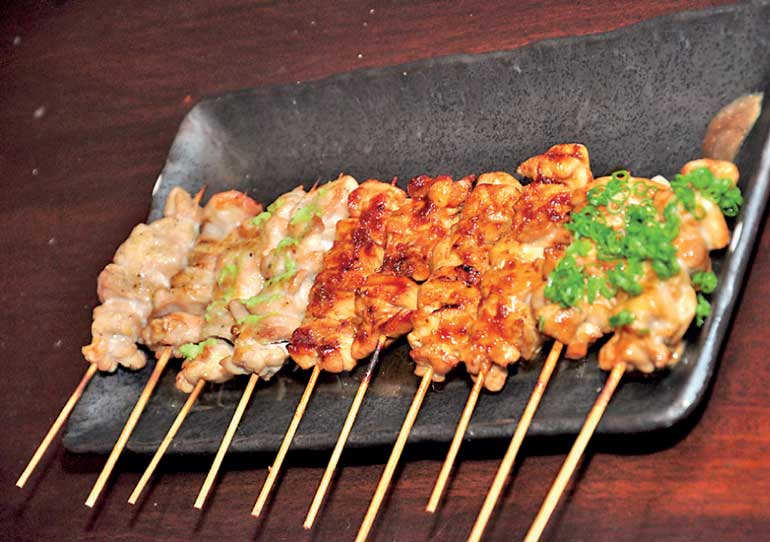 Assorted Yakitori Set
---
By Charumini de Silva
---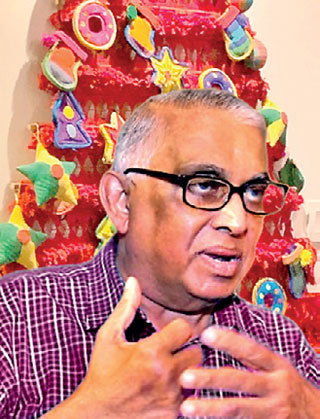 Kuuraku Director Athulla Edirisinghe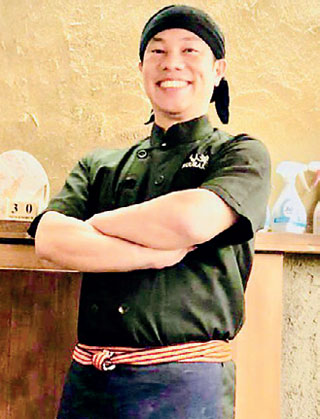 Celebrity Chef and Kuuraku Group Culinary Director Seijiro Hirohama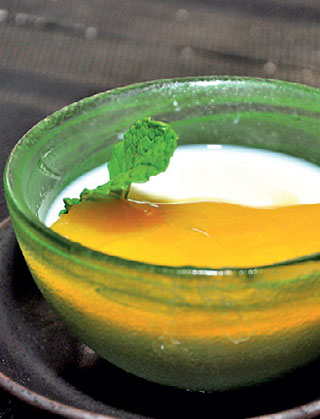 Almond Tofu
Colombo's top Japanese restaurant — Kuuraku, will host a Japanese Food Festival from today (16) to celebrate 70 years of diplomatic ties between Japan and Sri Lanka.

Celebrity Chef and Kuuraku Group Culinary Director Seijiro Hirohama has flown in from Japan for this event and is all set to serve a variety of mouth-watering delectable dishes at the food festival, till 18 December.

Kuuraku is an 18-year-old Japanese franchise, operating restaurants globally in Japan, US, Canada, Indonesia, China, India, and Sri Lanka. The Colombo restaurant was opened in 2016.

Japanese cuisine delivers an abundance of gastronomic delights through a wide variety of dishes that are inventively combined with highly distinct and complex tastes. With the same philosophies, Kuuraku promises a casual fine dining experience to all its customers.

Although there wasn't a white tablecloth, the level of care and intention they put into their food sourcing, cooking, service, and other aspects of the meal make it feel like gourmet dining.

Kuuraku Director Athulla Edirisinghe outlining the purpose of the three-day Japanese Food Festival said: "Our goal is to symbolically convey the fundamental principles of friendship and cooperation between Sri Lanka and Japan through the culinary experiences we offer as we commemorate the 70th anniversary milestone this year."

To ensure that the food and service at Kuuraku are of superior levels, he said all 24 restaurant staff undergo training from seasoned Japanese chefs that fly on a monthly basis.

"This has been a major pillar of strength for us to offer quality food and experience for our loyal customers. We are unbothered by what others are doing as our focus is on bettering our quality of food and service to entertain the guests," Edirisinghe said.

Sharing plans for the three-day food festival, Chef Hirohama expressed excitement to offer some of their popular and delicious dishes that have been prepared to suit the Sri Lankan palate. "The food festival is a great opportunity for Japanese food lovers in Sri Lanka. We have developed some very popular dishes such as Tokyo Curry Rice, Yakitori, Nabe — the Japanese hotpots (cooked in front of you) and Udon Noodles, Sushi, Ramen and many more," he explained.

Noting that food is a great part of Japanese culture, Kuuraku Managing Director Kojiro Honda said they focus on offering a worthy experience to all its customers. "The meaning of Kuuraku is 'Eat and Enjoy'. We want our customers to have a delightful experience every time," he pointed out.

We tried some of the dishes that will be served at the food festival.

The dish Kuuraku introduced particularly is the Nabe or the Japanese hotpot. 'Nabe' literally means 'pot' in Japanese and the very idea of it is to gather your friends and family around for a hearty food experience. The concept of a Nabe is simple with a mix of different fresh vegetables, meat, seafood, and tofu all cooked in a simmering soup broth within 10 minutes in a pot. The soup base was heavenly, with seafood balls, vegetables and chicken. It is a must-try and quite exquisite.

We also had the assorted Yakitori set, which is unquestionably one of the most popular and adored dishes of Kuuraku. Yakitori is a Japanese type of skewered chicken. Its preparation involves skewering the meat and grilling over a charcoal fire. It was presented in four flavours— salt and pepper, a soy-based sauce, mayo glazes and a spicy version. All four varieties of yakitori were wonderfully juicy, succulent and full of flavour.

In addition, we tried the Avocado Wasabi salad and crunchy Ebi Roll Sushi. The salad was very refreshing and crunchy with iceberg lettuce, avocado, and tomatoes with wasabi. The sushi was full of Ebi bites and scrumptious.

The beautifully presented Maguro Tuna Zanmai included six different types of sushi sashimi prepared in various ways and was a delight in both taste and presentation.

To conclude our meal, we tried their Almond Tofu and Matcha ice cream which individually had very distinctive flavours and textures. The Almond Tofu had a subtle hint of almond in a silky texture, paired with apricot compote.

It is safe to say that the Kuuraku dining experience has always been consistent throughout the years and the chefs have mastered Japanese culinary methods and flavour profiles.

Kuuraku has an open kitchen concept and separate areas for Sushi, Yakitori, Teppanyaki, and Tempura preparation.

The interior is thoughtfully designed to cater to up to 100 guests inside, outside and upstairs of the restaurant. It is decorated to look like a typical Japanese restaurant with few tables in the centre, and on either side. They also have small half-cubicles separated by bamboo tats, giving diners the option of privacy.

Diners can look forward to delicious gastronomy till Sunday (18) at Kuuraku Japanese Food Festival. The restaurant has also partnered with some of the top banks providing up to 20% discounts to consumers during the food festival.
Pix by Sameera Wijesinghe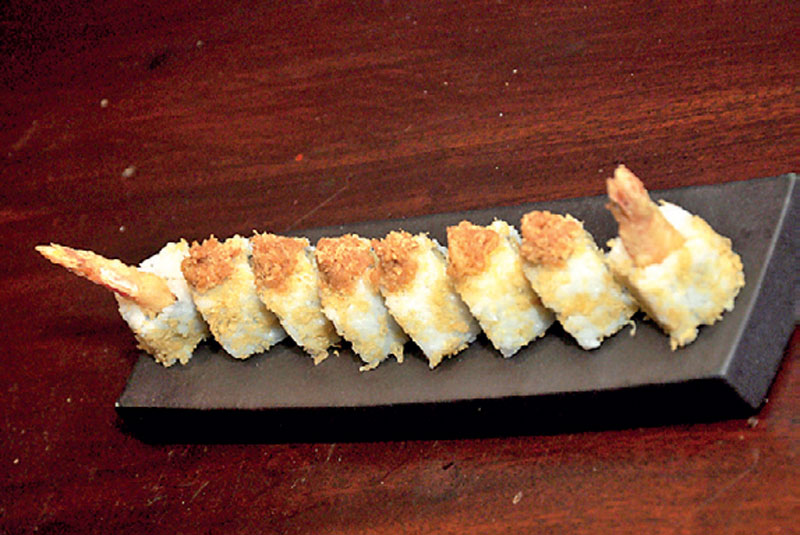 Crunchy Ebi Roll Sushi
Avocado Wasabi salad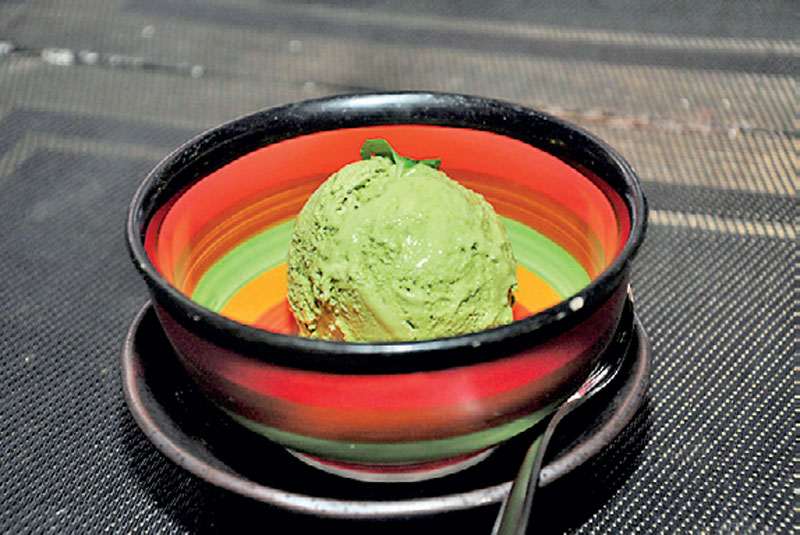 Matcha ice cream