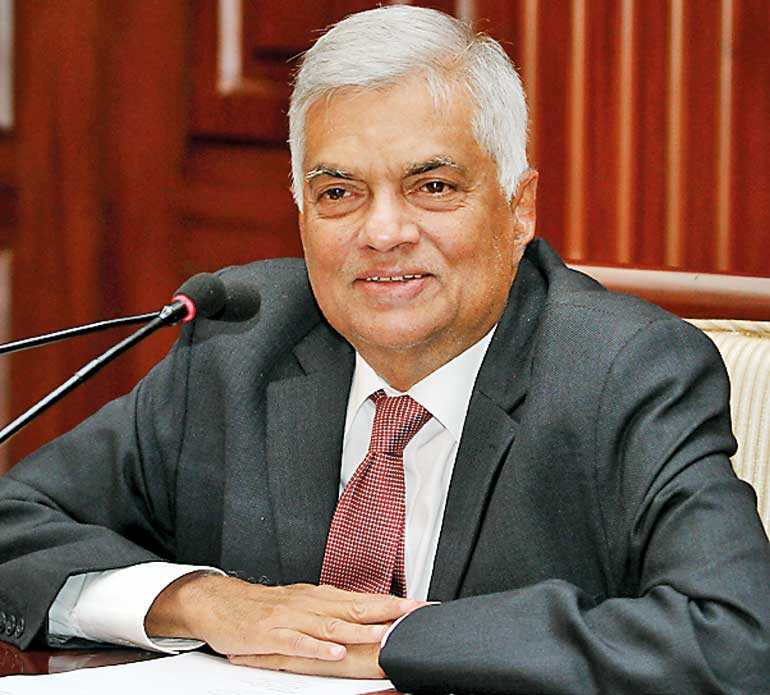 Prime Minister Ranil Wickremesinghe smiles during the dialogue with media yesterday at Temple Trees - Pic by Chamila Karunarathna
Says UNP-backed candidate was written off in 2014 but won 2015 poll
Stresses Govt. turned economy around, will do same with electorate
Points out free country Govt. created since 2015 boon to media, Judiciary, Police and civil society
By Chandani Kirinde
Prime Minister Ranil Wickremesinghe said yesterday they were confident of turning the electorate around in their favour to win the Presidential Poll as in 2015.

"In 2014 everyone wrote us off, but in January 2015 we got the votes. We've done that earlier in 2014 and 2015, and we will do it again. We've turned the economy around. We will turn the electorate also around," the Prime Minister said.

Wickremesinghe made the remarks in response to questions raised by journalists, at a meeting he held at Temple Trees to brief the media and members of civil society on the progress of development activities carried out by the Government since 2015. Asked how the UNP would bridge the nearly one million vote gap with the SLPP, which was evident from the 2018 Local Authorities Election result, the Prime Minister said that this was different from that election.



"You are looking at one vote. This is not the same case. This is a real choice, not just between individuals, but what we choose," he said.

The Prime Minister said that the Government has created a free country, and those who enjoy the fruits of this freedom most are journalists, as well as those from civil society who have benefited from the setting up of the independent Commissions, the Right to Information (RTI) etc.

He said the economy too has rebounded since 2015.