Total patient count rises to 313,769, includes 209,122 persons from New Year cluster
Western Province detections during third wave rise to 104,065
13,322 PCR tests carried out yesterday
28,393 persons under medical care, recoveries rise to 280,868
---
By Shailendree Wickrama Adittiya
---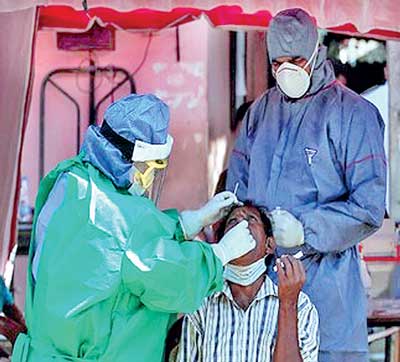 A total of 2,420 persons tested positive for COVID-19 yesterday, raising the country's total COVID-19 detections to 313,769.

The patients detected yesterday include 2,382 persons from the New Year cluster, while the cumulative patient count of the Divulapitiya, Peliyagoda, Prisons and New Year clusters has risen to 305,199.

This includes 209,122 persons from the New Year cluster, 82,785 persons from the Peliyagoda cluster, 7,841 persons from the Prisons cluster, and 3,059 persons from the Divulapitiya cluster.

In addition to this, 6,300 Sri Lankan overseas arrivals and 328 foreigners were also among the country's COVID-19 detections. This includes the 2,510 patients detected on Sunday, of which 2,483 were from the New Year cluster, 20 were Sri Lankan overseas arrivals, and seven were from the Prisons cluster.

Among the COVID-19 patients detected on Sunday are 398 persons from Kalutara, 384 persons from Gampaha, and 189 persons from Matale.

During the third wave of the pandemic, 39,631 persons from Colombo, 37,991 persons from Gampaha, and 26,443 persons from Kalutara have tested positive for COVID-19.

In total, 71,928 persons from Colombo, 56,525 persons from Gampaha, 33,501 persons from Kalutara, 15,400 persons from Kurunegala, and 14,963 persons from Galle have tested positive for the virus.

According to the Health Promotion Bureau, 13,322 PCR tests were carried out yesterday, a drop from Sunday's 19,122 PCR tests. On Sunday, 5,365 rapid antigen tests were carried out as well.

At present, 28,393 persons are under medical care and 1,521 persons suspected of having COVID-19 are under observation.

Meanwhile, Sri Lanka's COVID-19 recoveries rose to 280,868 with 1,958 persons leaving hospitals yesterday.