Questions how public can have confidence in Rajapaksa respecting the law when he assumed SLPP leadership while still being an SLFP member
Says all ready to announce democratically elected UNP candidate
Confident candidate will be widely accepted by masses
United National Party (UNP) Chairman and Highways, Road Development and Petroleum Resources Development Minister Kabir Hashim yesterday said the UNP will present a presidential candidate who has not been accused of corruption in the near future.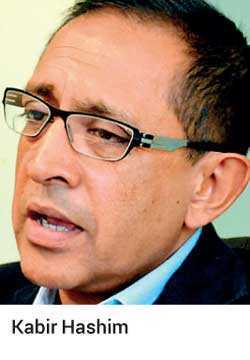 Issuing a statement Hashim pointed out that Opposition Leader Mahinda Rajapaksa took the leadership of the Sri Lanka Podujana Peramuna (SLPP) on Sunday while he was still a member of the Sri Lanka Freedom Party (SLFP) and presented his brother who has not officially renounced his US citizenship as the presidential candidate of the SLPP.
"When Mahinda Rajapaksa so blatantly disregards the law and the constitution of the SLFP how can one expect him to be law abiding in his future endeavours?" questioned Hashim in the statement. He also reminded the public that former Defence Secretary Gotabaya Rajapaksa remains accused of several serious charges in courts of law and said naming him as a candidate was misleading the public.
"As one of the oldest parties in Sri Lanka, the United National Party will democratically elect its candidate and present him to the people in the near future. All has been arranged for this to be done with the majority concurrence of the party."
Hashim also listed out the qualities the UNP candidate will possess and insisted he would be someone people of all backgrounds and communities will be able to gather around.
"Our candidate will be someone who loves this country and respects democracy. He will not be a person who has been charged before a court of law or by the people of criminal activities. He is someone equally respected by all communities and someone who can reinforce and ensure national security. He will be someone who can take the next generation to a new world, understand the heartache of the poor, is educated, law-abiding and a courageous person."