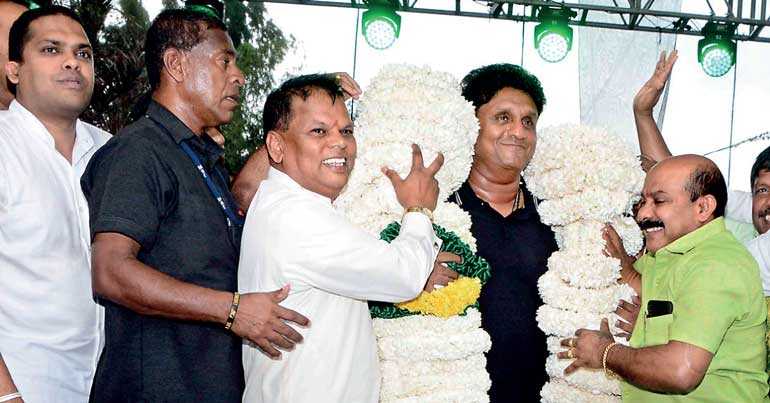 UNP's presidential candidate hopeful Minister Sajith Premadasa receiving a rousing welcome yesterday in Badulla during a packed rally - Pic by Shantha Rathnayake
---
Wants to establish meritocracy to support development

Promises stable policies, SME focus, tax cuts for middle class

High budgets for education, healthcare and housing

Says development needs to be decentralised, income disparity should be reduced

Wants export and investment centred economy


United National Party (UNP) Deputy Leader and Housing, Construction and Cultural Affairs Minister Sajith Premadasa was yesterday confident of having the people's support to be a presidential contender promising to focus on inclusive development to bring prosperity to Sri Lanka.

Insisting he was ready to even die for his motherland, Premadasa outlined broad proposals to develop the economy by slashing middle class taxes, supporting Small and Medium Enterprises (SMEs), having consistent policies and fighting corruption. Premadasa, speaking at a rally organised at Wills Park by Telecommunication, Foreign Employment and Sports Minister Harin Fernando, also pledged to establish a governance system based on meritocracy to support development.

"I am happy to begin my journey in Uva-Wellassa. Friends, we must be hard-working, focused and dedicated towards our motherland in this journey. To create a developed, prosperous and united Sri Lanka.
Governance is a temporary responsibility and we receive it only on the wishes of the people. This State governance must be centred on the masses, on the common man. Therefore when we are running a country we cannot have a group of friends running the country. It is important to establish a system of meritocracy so that the most hard working and competent people are appointed to the right positions and thereby develop the country. We will provide this kind of government to the people in the future," he said.
Premadasa pointed out a policy that has been accepted the world over is for a country to develop Small and Medium Enterprises (SMEs) need to be supported. He noted local companies have to be given assistance through targeted policies so wealth is created within the country.

"In the new journey we are creating we have to meet the aspirations of the youth. They must not be a political football but instead be drawn into the forefront of development. If we are to grow as a nation we must give space to new ideas, technology and innovation. We must use these to be competitive with the rest of the world. If the US can create a Silicon Valley then why cannot we do the same here? We have to create new types of manufacturing sectors and strengthen the economy and through a stronger economy develop the country."

He also emphasised the need for long-term planning with timely evaluations of national targets to ensure that growth remains on the correct path. He also called for decentralisation of investment so that youth in different areas of the country could avail themselves of technology and language opportunities to foster entrepreneurship.

"When you are governing a country you cannot change policies at will, there must be a national plan. There must be national targets, we must evaluate weekly, monthly and yearly whether we are on the right path and if this will benefit the public. The future Sri Lanka should be based on professionalism, competency and innovation. Everyone should win through development. It is not enough for a small group to benefit. We have to combat income inequality. We have to create a new economic path that champions inclusivity."

Referring to his father's policies to establish the apparel factory program, Premadasa said the same principles of export-orientation that has the capacity to attract investment are essential for economic development.

"We have to think differently. We all want a revolutionary change. But to achieve change at that level we have to think out of the box to bring development to the common man. We need development that is based on exports and investment. I want to bring industries to the villages with a timeline and targets. I shall do this as part of our new vision. We will do the same with IT centres and international language study centres to link our children with the rest of the world."