Says he will not rest till Sajith is made presidential candidate
Insists announcement will be made at Galle Face Green soon
Tells packed rally no battle started from Uva-Wellassa has ever lost
Recalls his efforts in 2014 that set stage for presidential victory
Telecommunication, Foreign Employment and Sports Minister Harin Fernando yesterday pledged to make United National Party (UNP) Deputy Minister and Housing Minister Sajith Premadasa the next presidential candidate, describing him as "the bullet" needed to win the presidency and insisting no battle begun from Uva-Wellassa has ever failed.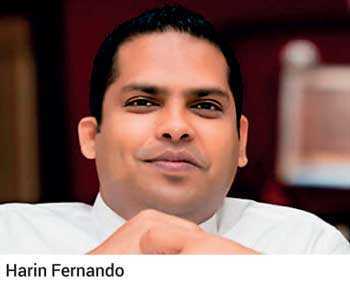 Fernando who organised a rally in Badulla to support Premadasa for the presidential candidacy of the UNP without the sanction of party seniors on Monday, was vehement in his support.
Fernando also recalled his efforts in 2014 when he resigned from his parliamentary seat to contest the Provincial Council elections, which eventually created momentum for the presidential victory several months later.
"We know who our bullet is, our bullet is Sajith Premadasa and no other. We will introduce him as our presidential candidate at a huge rally at Galle Face because he is someone who has worked for the party and the people. I will put my life on the line and make Sajith Premadasa the presidential candidate," Fernando told the cheering crowd.
Fernando insisted that Premadasa was the best candidate for the UNP as he is competent, has proved his worth and has the capacity to continue working for the country for decades.
"Our hope is definitely Sajith Premadasa. We are not scared of anything. We will take Sajith and win this race. Nothing that has started from Badulla has ever been lost. We in Uva-Wellassa didn't lose against colonisers and we will not lose this battle either," Fernando told a tightly packed crowd at Wills Park.
"Sajith Premadasa is closely connected to us, so we have a right to bless the journey of Sajith Premadasa. He is a person who is loved by all people. When I stepped down from my parliamentary post I asked for Ranil Wickremesinghe and Sajith Premadasa to work together. We have no disagreements with anyone but we ask that the people be given who they are desperate for, the person their hearts are crying out for. We have not brought a person who is facing retirement. We have brought a person who has the capacity to work for the country for the next three decades."
The crowd enthusiastically received Premadasa with loud cheers. He and Fernando were mobbed as they attempted to reach the stage where a slew of UNP members including Ranjith Madduma Bandara, Vadivel Suresh, Chandrani Perera, Sujeewa Senasinghe, Lakshman Seneviratne, Eran Wickramaratne, Ajith P. Perera and Dr. Harsha de Silva were seen.
During his speech Fernando also extolled the virtues of the UNP insisting it remained a party that was not dominated by one family and still gave space for the common man.
"The UNP is not about one family. The UNP is about the people and only the people. You don't have to come from a 'Walawwa' (ancestral home) to be part of the UNP. We have championed the common man, the best example for this is Ranasinghe Premadasa."
"If I have done any wrong then the only way I can make amends is by making Sajith Premadasa your presidential candidate. We will not take a step back. This is only our first shot."