---
Says inclusive approach is needed to tackle situation
Says more developed countries are grappling with spread of COVID-19
Urges President to consider inclusive strategy
Former Speaker Karu Jayasuriya said yesterday that it would be opportune to either summon Parliament or hold an all-party national conference, as the country grapples with the growing threat from the novel coronavirus COVID-19.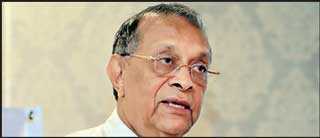 Karu Jayasuriya


"In many countries, all stakeholders have come together to derive plans of action to combat COVID-19 and we are hopeful that President Gotabaya Rajapaksa too would consider such an inclusive approach," Jayasuriya said in a press release.

He said that even developed countries with strong economies have become helpless in the face of the rapid spread of the virus, and it is likely that countries like Sri Lanka will have to face worse repercussions with the economy taking a severe hit.

"Actions to control the spread of COVID-19 needs to be carefully measured to not to push the public into an undue panic situation. Breakdown of everyday life is disastrous, and the repercussions will be harshly felt. A properly calculated epidemiological approach is now necessary," the former Speaker said.