Organised by the first year engineering students of SLIIT, 'Young Engineering Expo 2016', showcased over 100 innovative exhibits at the SLIIT auditorium in Malabe recently. Along with the Chief Guest Prof. Lalith Gamage, President/ CEO SLIIT and Guest of Honour Prof. Lakshman Ratnayake, Chairman SLIIT, the Deans of all the faculties, academic staff, undergraduate students, parents and school children were present at the opening ceremony. Many industry specialists from corporates such as IFS, Virtusa, Dialog and zMessenger also attended the exhibition to witness young talent.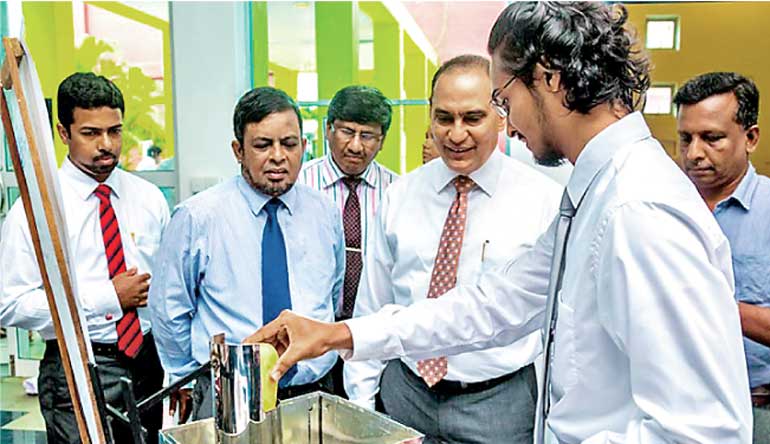 "Conducted for the second consecutive year, Young Engineering Expo is the ideal platform for students to demonstrate their ability of understanding real world engineering problems, conceptualising and implementing technical solutions using theoretical knowledge. An exhibition of this manner also gives students the opportunity to meet with industry specialists. An encounter with experts from the industry further enables students to build their networks and carve out a path to enter the corporate world in order to make a contribution to society" commented Faculty of Engineering Senior Lecturer Madhawa Herath.

"The Engineering curriculum at SLIIT seeks to produce creative and innovative Engineers with the right mindset, attitude and knowledge which can be applied to the real world" noted Herath.

From the start of the degree program, students are given the opportunity to be creative, think out of the box and learn with hands on experience. Young Engineering Expo is indeed a stepping stone for students to think, practice and solve problems via Engineering Innovation.

The four year BSc Engineering honours degree program of SLIIT, allows to students to opt for one of five major fields of study; Civil Engineering, Electrical and Electronic Engineering, Materials Engineering, Mechanical Engineering and Mechatronics.