Singapore and Sri Lanka share much in common: They are island nations in Asia and cultural melting pots. Singapore and Sri Lanka are both nations with Buddhists as the largest religious group and Hindu, Muslim, and Christian minorities. And, like Canada, the country of my birth, both Sri Lanka and Singapore are former British colonies. For the past five years, I have been engaged in founding a new college of liberal arts and sciences in Singapore, Yale-NUS College. It would be my pleasure if my experiences could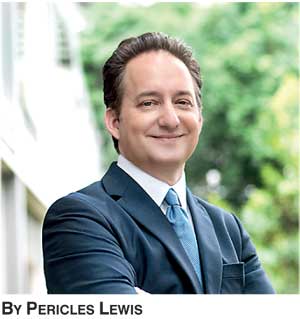 be of benefit to this remarkable South Asian island nation.

I will be participating in a dialogue at the Lakshman Kadirgamar Institute that very much mirrors the kind of education we practise at Yale-NUS, which is based on conversations: conversations between past and present, conversations between cultures, and especially the conversations between students and faculty both in and out of the classrooms.

We invite students and colleagues to question their own assumptions and biases and to decide what sort of character they want to develop with the ultimate aim of creating stronger citizens. We can then all work together, as part of a supportive community, to try to help each other learn the habits of character that we agree to admire. And this brings us to the role of the college as a community and as a place to train young people for citizenship.


The role of liberal education in developing character and citizenship


The second president of the United States, John Adams, was perhaps not the most democratic of the founding fathers, but he had a particular view of the role of liberal arts colleges in developing citizens for the new republic. During the debates about the US Constitution in the 1780s, he wrote that "By gentlemen are not meant the rich or the poor, the high-born or the low-born, the industrious or the idle: but all those who have received a liberal education, an ordinary degree of erudition in liberal arts and sciences. Whether by birth they be descended from magistrates and officers of government, or from husband men, merchants, mechanics, or labourers, or whether they be rich or poor." In other words, like Aristotle and Confucius 2,000 years earlier, Adams thought that there were certain virtues associated with being a gentleman regardless of a person's background, and he thought that an education in liberal arts and sciences was the prerequisite for being a gentleman in this sense. At least since the time of John Adams, one of the goals of liberal education has been cultivating character and citizenship.

Students' characters reflect and reinforce the social and intellectual communities in which they learn and grow as individuals. As 21st century educators, how might we address these challenges of liberal education while also retaining the traditional strengths of this mode of education? How might we create an innovative form of liberal education which itself promotes change? These are questions that my colleagues and I have asked ourselves repeatedly as we have forged ahead in the process of creating a new institution for liberal education at Yale-NUS College in Singapore.


Developing an internationally relevant curriculum


One of the first innovations that we introduced at Yale-NUS was a rigorous global common curriculum. Our students engage with both Western and non-Western texts, pairing Confucius with Aristotle, the Odyssey with the Ramayana, in which Sri Lanka plays such an important role. We also bring modern readings from Asia and the West in conversation with each other. Such a comparative approach is not just limited to the humanities. Courses on 'Comparative Social Institutions' and 'Historical Immersion' carry this global scope into the social sciences, too. We attempt to bridge the 'two cultures' of humanistic and scientific inquiry by having all students develop basic scientific literacy.

Our common curriculum gives a broad and rigorous introduction to the methods of the humanities, social sciences, and the natural sciences. Out of 10 required courses, three are focused in the natural sciences and quantitative reasoning. Rather than treating non-majors to watered-down courses, each course in our common curriculum is designed to challenge students to understand a variety of disciplinary approaches and ways of thinking. This teaches students to become proficient in and understand the applications of multiple subjects, as well as to bring these together in their work in and beyond the university.

In the course of the past decade, much has been said about the limitations of traditional liberal education programmes in furnishing students with the tools to make wise financial decisions or to vote on hot-topic political issues. By introducing all of our students not just to 'science' or 'math', but to the structure of scientific inquiry, we are providing them with the vocabulary and confidence to think critically within their own disciplines and future careers, as well as to become responsible citizens and leaders.

At times, innovation means simply possessing the awareness of what might need changing, and we expect that a training in all three branches of the liberal arts – science, social science, and humanities – will equip our students with precisely this skill.


Placing faculty in interdisciplinary divisions to foster innovation


In building innovation into the core structure of liberal education at Yale-NUS, we have also sought to recruit our faculty as champions of change. By placing faculty in 'divisions' that are inherently interdisciplinary, we break down the silos inherited from the traditional 19th century organisation of research universities. Unlike other institutions, Yale-NUS does not organise its faculty into the traditional academic departments, but groups them instead across three interdisciplinary divisions, namely Science, Social Sciences, and Humanities. The result is an integration of disciplines that is emulated in our students' common curriculum.

Faculty participate in workshops and teach in teams that help them to generate new ideas regarding both research and pedagogy. We have recruited faculty through workshops in which, in addition to presenting their current research, candidates share their conceptions about pedagogy and about extra-curricular life. As a result, and with the advantage of self-selection on the part of prospective faculty, we have found an inaugural faculty unusually eager to develop students holistically rather than exclusively in their particular areas of expertise.

Our faculty created the common curriculum with one central question in mind: "What must a young person learn in order to lead a responsible life in this century?" In other words, what education must we provide for our students such that they continue to learn and create once they leave our campus? How do we ensure that they do in fact live what Socrates called "the examined life," thinking critically about their own values, and at the same time have the opportunity for an active life, one that allows them to make a difference beyond the campus walls?

One solution was already open to us: By placing our school in a uniquely cosmopolitan city in Asia, we were able to bring together students from a variety of backgrounds, including adventurous students from all over the world.


Broadened perspectives through off-campus learning


In addition to in-class curriculum, we have designed a program called 'Learning Across Boundaries', which requires students to bring their campus-bound learning into the world, to make education into innovation. The programme developed out of a faculty initiative and relies on close collaboration among faculty, staff, and students. All students at Yale-NUS take part in this program, spending a week immersed in off-campus projects with faculty mentors, on topics such as biodiversity in Spain, Burmese literature, or Buddhist philosophy in Kyoto, Japan.

Much like the '20% time' set aside by major corporations like Google for their employees to pursue self-driven, innovative projects, these off-campus trips provide students with a canvas on which to experiment with the skills they have learned in class. Students push themselves to understand the world not just intellectually, but practically, to apply their education as a basis for engagement and empathy. By going out into the world as an integral component to the common curriculum, students practise bridging the gap between world and campus, precisely the same bridge that they will cross as they graduate from our institution.

We believe that bringing liberal education to real-world applications will allow our students to replicate and expand upon their experiences in college by creating their own innovations in the world. We hope, further, that this will foster a seemingly paradoxical 'tradition' of innovation. As Tennyson's Ulysses says,

I am a part of all that I have met;

Yet all experience is an arch where through

Gleams that untraveled world whose margin fades

Forever and forever when I move.

Instead of seeing college as an endpoint to their achievements, we encourage our students to use their four years with us as a testing ground from which they can learn to encounter the wider world.


An international community of learning at Yale-NUS
​

Through a broad but well-defined and intensive common curriculum, the integration of different disciplines, the recruitment of an energetic faculty with a strong commitment to undergraduate education, and finally the drawing together of world and campus, we are striving to create an international community of learning at Yale-NUS College. Our community is founded in the conversations facilitated by the liberal education tradition, and it addresses head-on the challenges that liberal education confronts as it adapts to the twenty-first century and spreads throughout the globe.

Most of all, our community is founded on the idea that we wish to teach students to anticipate change, to ask future-facing questions, to take on risks, and to carry their learning beyond the walls of our campus. Through interdisciplinary, international knowledge, through self-reliance and teamwork, we wish to create a campus of innovators. We have summarised our mission as follows:

A Community of Learning

Founded by two great universities

In Asia, for the world.

I am honoured to share this vision with colleagues throughout Asia, and I hope that the traditions of liberal education will continue to enliven Asian educational systems in the generations to come, shaping a generation of Asian leaders who are also citizens of the world.