In keeping with the promise for better education and smarter classrooms, the Sri Lanka Technological Campus (SLTC), recently powered another ground breaking initiative, giving life to an independent organisation, the Centre for Excellence in Teaching, Learning and Innovation (CETLI).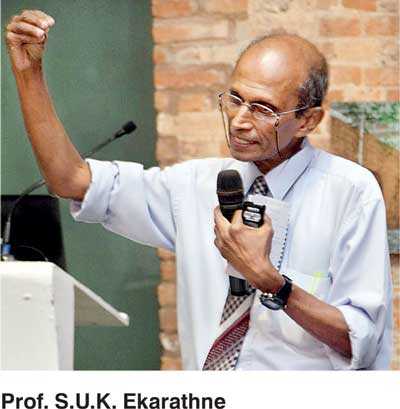 CETLI has been set up to improve skills and performances of educators across the education sector, and will strive to enhance quality and effectiveness, inducing modern teaching techniques and principles through a series of courses, workshops, conferences and one-on-one communication.

The launch was attended by SLT Chairman Kumarasinghe Sirisena who also unveiled the commemorative plaque, along with Eng. Ranjith Rubasinghe, Founding President/CEO SLTC, Prof. S.U.K. Ekarathne, Director CETLI and Dr. Ajith Pasquel. The audience comprised academia from universities, and invitees from the ministries of Education and Higher Education.

Even with Sri Lanka's literacy rate ranked far ahead of its regional counterparts, there is, much room for improvement and engagement between students and their teachers. Therefore, the mission and vision of CETLI is to contribute towards innovative methods that will address this requirement with a focus on specific facets, which will then be explored to include additional areas of significance.

Speaking at the launch, Eng. Ranjith Rubasinghe said, "What we intend to accomplish is to fill a long-felt vacuum in the space of educator quality improvement that will have a hugely positive impact on the students they produce. This newly established centre, as it gathers momentum, would serve as an independent platform that is committed to explore and utilize innovative methods to improve the levels of education in the country, through educator development. We believe this centre will help enrich the program delivery standards in higher education institutions, especially in the non-state sector."

Initially, the Centre will begin with a three-month course called 'Making Teaching Effective' (MaTE) focused on university teachers. Thereafter, more in-depth courses will be conducted through internationally accredited partnerships with recognised higher education organisations.

During his keynote address, Professor Ekarathne said, "In courses such as these, we will use interactive methods because there is constant criticism that in the teaching methods commonly used, students are not motivated to become involved or engaged in the learning process. Therefore, we intend to change these teaching and learning practices to bring about effective learning of both subject matter and socio – emotional skills (soft skills) of Sri Lankan students and teachers."

This three-month course for university teachers will start immediately.

Commencing July '18, CETLI will facilitate a national conference on higher education, where university lecturers will share case studies and experiences on how they have introduced new teaching activities, ensuring development of, both subject matter and socio-emotional skills, and how teachers have motivated university students to become interested and interactively engaged with classroom teaching and learning activities. The presentations at this conference will also showcase how such interactive methods can effectively develop intellectual skills as well as socio-emotional skills.

These conferences and short seminars will also provide a valuable platform to discuss and analyse the root causes holding back the development of Sri Lankan youth. "We will also publish short practical guides to disseminate to the wider public on what is necessary to be broad-based practices to improve education. What we accomplish will no doubt contribute immensely to the productivity of our country and I feel extremely fortunate to have the opportunity to help starting this Centre," added Eng. Rubasinghe.

The Centre is located at SLTC's City campus at Trace Expert City, Maradana. The city campus is equipped with an all inclusive lecture room to ensure maximum comfort with accessibility to reference libraries, internet and Wi-Fi facilities and other learning materials.

The Sri Lanka Technological Campus is the country's only corporate backed, fully residential campus with a range of highly sought-after degrees in Engineering and Technology.

For more information on this course, please contact Professor S.U.K. Ekarathne on 0112100500.