SLIIT, Sri Lanka's leading degree awarding institute approved by the Ministry of Higher Education held an Open Day recently at its Metro Campus to coincide with the institute's new intake of MSc students.

The Open Day offered special discounts up to 15% for students who participated in the day's activities and applied for the MSc course on the same day. Discounts on the Open Day were extended to SLIIT Alumni up to 10% and for groups of students from selected corporate organisations up to 20%.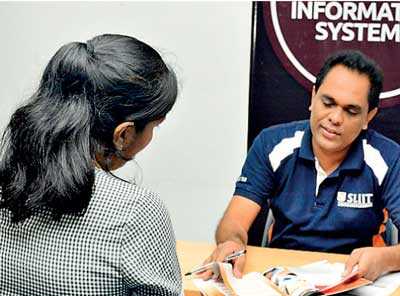 SLIIT's MSc courses are primarily in the field of Information Technology and has the approval of the University Grants Commission. The institute is a member of the Association of Commonwealth Universities and International Association of Universities.

The Faculty of Graduate Studies & Research (FGSR) at SLIIT offers a range of postgraduate degree options designed to empower students who wish to take up the challenge of becoming leaders in their respective field. Postgraduate Degrees at SLIIT encompass five core subject disciplines on Information Technology including specialisation in cyber security, enterprise application development, information systems and information management. Pre-requisite for the MSc program requires any IT related Bachelor's Degree from a local or overseas university approved by SLIIT. The qualification has to be supported by relevant work experience where applicable. Membership of a recognised professional institute is another prerequisite for students who wish to apply for the MSc course.

The potential students would be called upon to face an interview where the original certificates submitted would be evaluated to validate eligibility. Lectures would span two years at SLIIT Metro Campus at BOC Merchant Tower or SLIIT Campus at Malabe for students specialising on Cyber Security.

Students have the advantage of downloading applications from www.sliit.lk or calling the MSc Information Co-ordinator, Dimuth Gurusinghe on 0777605077.