From left: ICBT Campus General Manager – Academic Administration Sampath Perera, CEO/Executive Dean Dr. Sampath Kannangara, LJMU – UK Pro Vice Chancellor Prof. Peter Byers, ICBT Campus Chairman Dr. Jagath Alwis and ICBT Campus Director Marketing Anura Gamage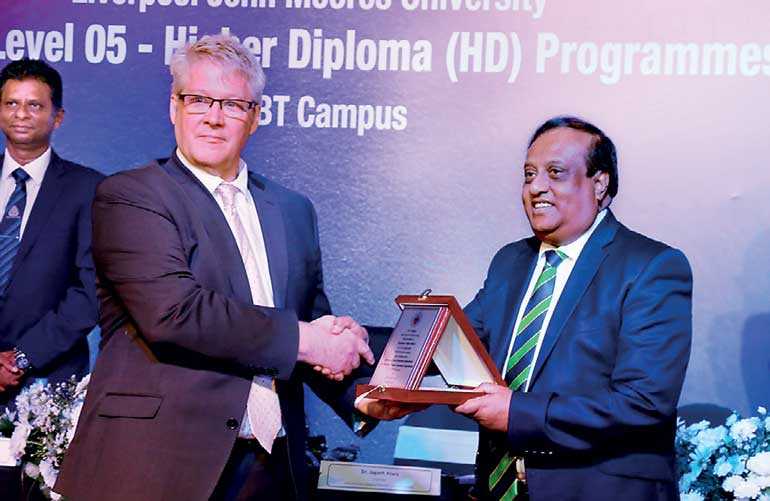 ICBT Campus Chairman Dr. Jagath Alwis presenting a memento to LJMU – UK Pro Vice Chancellor Prof. Peter Byers
ICBT as one of the island's leading education institutes has always been at the forefront of scholarship, innovation, and advancement, giving students access to better opportunities through a higher standard of education.

Continuing on the same path, ICBT recently partnered with the UK's prestigious Liverpool John Moores University (LJMU) to offer the only British University awarded Higher Diploma in Sri Lanka. The official event to mark this momentous occasion was recently held at the ICBT Campus auditorium in Colombo-4.

The launch event was graced by dignitaries from the LJMU, Pro Vice Chancellor Prof. Peter Byers and a host of representatives from the ICBT Campus. Speaking at this momentous occasion, ICBT Chairman Dr. Jagath Alwis Campus stated: "At ICBT, we have always been committed to providing students with a standard of higher-education that exceeds anything else available in the country. To do this we have partnered with some of the most well respected educational institutes internationally.

"This, in turn, gives discerning students all across the island access to state-of-the-art facilities, an up-to-date curriculum and a dedicated team of professional educators with a track record of success. This is indeed a momentous occasion and we are honoured to be affiliated with the prestigious Liverpool John Moores University. An educational institute with a longstanding tradition of excellence, which is well-known for its forward-looking and progressive approach to edification."

LJMU will award higher diplomas in the fields of Civil Engineering, Electronic and Electric Engineering, Biomedical Engineering, Mechanical Engineering, Automotive Engineering, Mechatronics Engineering, Building Services Engineering, and Quantity Surveying. The Higher Diploma program at ICBT gives students a wider range of options to choose.

This, in turn, allows for greater specialisation and provides undergraduates with a truly transformative experience. In fact, students get to be a part of LJMU which is one of the largest, most dynamic and forward-thinking universities in the UK, comprising a vibrant community of over 23,000 students from over 100 countries worldwide, 2,400 staff and 250-degree courses. This perfectly aligns with ICBT's philosophy of creating well rounded, world-class individuals who excel at their chosen field and have access to a world of opportunities.

ICBT has over 18 years of experience affording Sri Lankans access to world-class education and to pave the way ICBT has partnered with some of the foremost international universities. Today, ICBT continues to provide the very best international undergraduate and postgraduate education by way of these partnerships.

Additionally, the ICBT campus is endowed with modern, high-tech facilities, carefully planned classrooms, cutting-edge equipment and a dedicated team of first-class educators, who have been the driving force behind countless success stories. In addition to a comprehensive education, students are also introduced to a variety of activities designed to create well-rounded individuals, with wisdom, character, and confidence.

To this end ICBT continues to champion the values of diversity, inclusivity, and equality, Thus students benefit from a progressive outlook that goes beyond conventional boundaries. It is these essential components that help so many young professionals to adjust demands of their chosen careers and better attain their personal and professional aspirations.

For students and their parents who have always aspired to study in the UK this partnership with LJMU opens, the doors to unlimited possibilities and also marks the beginning of yet another fruitful chapter in the ICBT story of success.