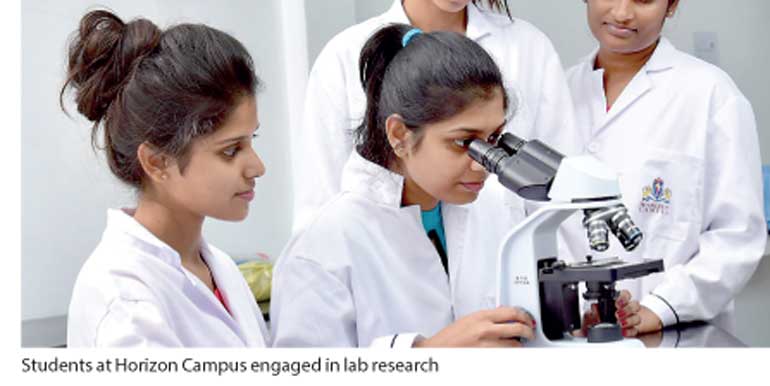 With the extraordinary developments occurring in the field of biotechnology globally, leading to significant changes in world commerce, as well as in human health and welfare, Sri Lankan industries need to get involved in this sector to ensure that the country doesn't fail to reap the huge benefits that are offered through this industry. A large part of this would constitute in creating a strong cadre of scientists, working in all areas of the biotech sector.

As such, Horizon Campus has been playing an integral role in contributing to the talent development of the bio technology industry in the country, by training the potential workforce required for this sector, through their globally accredited bio technology degrees in affiliation with highly ranked Nilai Campus in Malaysia.

Offering two key degrees comprising of a Diploma in Biotechnology and a Bachelor of Science (Hons) in Biotechnology, both the courses cover a comprehensive range of subjects that encompass the applications of biochemistry, molecular biology, genetic engineering, bioinformatics, cell culture techniques, marine and environmental biotechnology and others for the development of new products.

Dr. Thusitha Gajanayake, Senior Lecturer at Horizon Campus outlined the industry opportunities, as well as the talent development requirements to fulfill them.

Commenting on the pharmaceutical industry, Dr. Gajanayake said: "Dramatic advances have been made in medical biotechnology with the production of vaccines employing recombinant DNA methods for genetic engineering applications in the treatment of hereditable and communicable diseases. In Sri Lanka, this represents a cost-effective alternative to the prescription of expensive original products, where local pharmaceutical companies can manufacture equally good medications rather than importing it, leading to lower costs in medications. Many leading pharmaceutical companies in the country have already commenced exploring opportunities in this area and have established well equipped laboratories to carry out further research and development.

"At Horizon, we prepare students to engage in lab research, explore biotechnology and medical applications of products categories and DNA testing and drug discovery to help train them into the competent human capital the pharmaceutical industry needs."

Commenting on the agriculture industry, he said: "It's no longer necessary to depend on sustained harvest, which may be subject to vagaries of weather or climate. By means of genetic engineering, genes coding for economically desirable traits can be cloned and those systems established in the laboratory in controlled culture and production. For Sri Lanka, this presents a solution to prevent importing certain food products and have them locally manufactured instead. Additionally the financial savings in agriculture would be huge with reductions in the need for pesticides, herbicides, as well as the cost of spraying. Sri Lanka therefore needs a workforce with the capability of identifying how genetically modified foods and organisms can be made. These are key area covered in our curriculums that comprises molecular biology, genetic engineering, bioinformatics and cell culture techniques."

Commenting on the environment, he said: "Biotechnology is also increasingly applied in the field of environmental protection, including waste management and environmental rehabilitation. Biosensors used for the detection of harmful substances in water, air and soil are the key tools of environmental biotechnology. Researchers are developing systems based on microorganisms of enzymes to help indicate environmental toxins. Therefore environmental biotechnology is a field with great potential in a county like ours that is in dire need of such services. Our degrees cover both marine and environmental biotechnology and addresses methodologies of how to optimise the use of biotechnology-related tools and strategies for predicting and monitoring contamination and developing mitigation measures."

With almost all sectors making increased use of bio-based processes and products, with their value-added chains being supplemented with biotechnological components, Horizon Campus, backed by its highly knowledgeable experts in the field and strong links to the industry is today slated as a leading campus for bio technology education in the country.

Registrations are now open and more information can be obtained by logging on to www.horizoncampus.edu.lk.