Awarded Silver at the Women for Governance Professional and Career Women Awards 2014/2015
99X Technology's Process and Delivery Manager Shehani Seneviratne was recognised for her vast contributions to Sri Lanka's IT industry when she was awarded Silver for 'Leadership Excellence in Information Technology' at the Women for Governance Professional and Career Women Awards 2014/2015, organised by Women in Management.

Held for the fifth year, the Women in Management Awards recognised the achievements of women for their professional or entrepreneurial milestones, and those demonstrating outstanding leadership and managerial qualities in their respective fields, contributing significantly to society and the country's development. This time around, the awards ceremony was held at The Kingsbury Hotel on 26 June.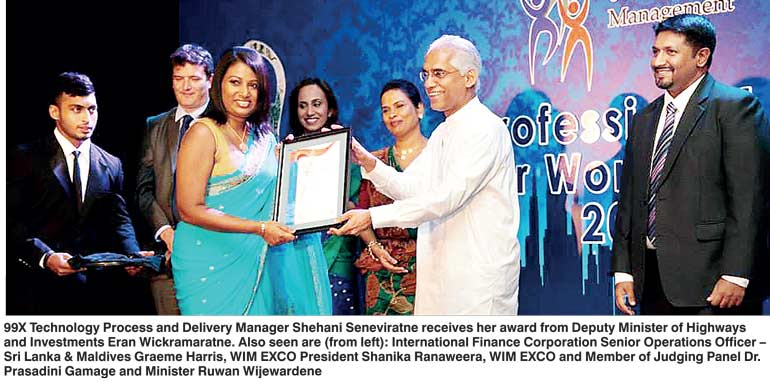 As a key member of 99X Technology's senior management team, Shehani has played an integral part in the growth and success of the company over the past decade. As Process and Delivery Manager, she was instrumental in bringing about process excellence within the organisational framework; with the introduction of processes such as CMMi, ISO 9001:2000, Agile, Kanban etc.

Her timely introduction of such processes made 99X Technology pioneers in the Sri Lankan IT industry in certain process spheres and aided the company greatly in keeping abreast with the rapidly changing global IT landscape. Given her immense experience in this area, she also provides consultancy on process improvement to other companies.

Her influence is not merely limited to the company alone as she is influential in advancing the role of women in leadership in the IT industry as a whole. Shehani is an active participant in SLASSCOM's HR and Quality Forums, a founding member cum director of the industry body Colombo Camps Community and has been a visiting lecturer at the Informatics Institute of Technology (IIT) for over five years. She also reaches out to students of a younger age group by providing continuous career guidance and IT awareness at Bishop's College, her Alma Mater. Understanding the importance of giving back to the community at large, Shehani keenly participates in many CSR initiatives, including several ICT in reconciliation projects.

99X Technology is an award-winning software product engineering company that specialises in delivering high-end software product development services to independent software vendors (ISVs) worldwide, with a primary focus within the European region. Headquartered in Sri Lanka, the company also has offices in Oslo, Norway and has an outstanding track record in building and delivering over 150 high quality commercial products. It has been named one of Asia's Best Workplaces for 2015 and has been ranked among the top 20 best companies to work for in Sri Lanka by the Great Place To Work Institute for three consecutive years.