The Wyndham Hotel Group (WHG) concluded its Annual Regional Conference Program for its general managers from the Eurasian region yesterday. This year Ramada Colombo, which is one of 16 global hotel brands under WHG, played host to the conference from 7-9 July.Wyndham Hotel Group has its properties in 15 key countries under Eurasia including Sri Lanka and the Daily FT sat down with WHG Regional Vice President Eurasia Deepika Arora for an interview on their impressions and plans for Sri Lanka. Following are excerpts:
---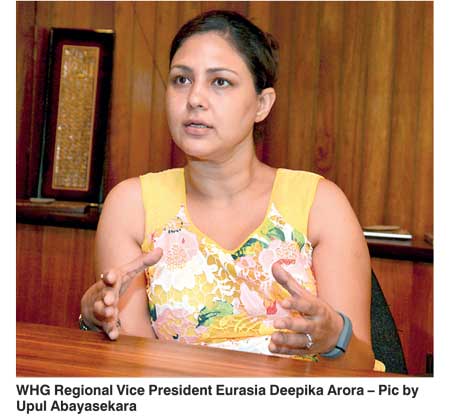 By Madushka Balasuriya

Q: Tell us a bit about this conference and why you chose Sri Lanka to host it?

A: This conference is an annual orientation program for general managers from my (Indian Ocean) region, who represent the brand well, to educate them on what tools they can use to maximise revenue. It's also teach them about our new Wyndham Rewards program which we recently launched.

Digital, online marketing and e-commerce has become one of the key requirements for every hotel. A lot is moving from tour operators to online business, so general managers need to be educated on how that works as well. It's also a great learning and networking session, to meet once a year to talk to each and exchange ideas.

Sri Lanka is a great place to conduct these meetings because you can combine business with leisure very easily. This year we decided to hold it in Ramada Colombo because this hotel was recently renovated as per our brand standards and Colombo is a market in which we see huge potential.


Q: Can you elaborate further on the potential you see in Colombo, as well as Sri Lanka in general?

A: Seeing the dynamism of India as a market we started focusing on neighbouring countries and the two countries that we've realised have huge potential are Bangladesh and Sri Lanka. After the recent improvement in bilateral relations between Sri Lanka and India, I've seen a lot of movement from South India into the Colombo market.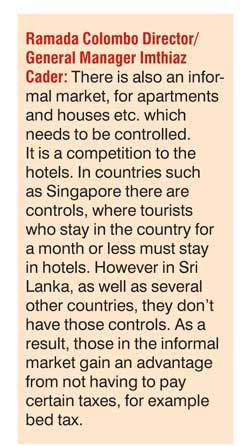 Sri Lanka is also expanding beyond Colombo. There is a lot of investment from other countries into the market. There are a lot of brands coming into the market, which is a sign of growth in the market. The other areas in Sri Lanka such as Kandy, Bentota and Kalpitiya, where infrastructure growth has taken place, will lead to an increase in tourism and eventually a need for more hotel rooms.

As a branded company when we see there is growth in infrastructure and as a result a growth in tourism, it becomes an obvious choice for a company to look into these markets. Investor profiles have also improved in this (Sri Lankan) market and we've seen a lot of investment.


Q:How has Ramada Colombo been fairing since your group took over?

A: This property has only seen a growth trajectory since it came down. It used to be another brand until we took over, and there has been definite improvement since. This has been down to our recent renovation, as well as the fact it is now associated with us [Wyndham Hotel Group]. We have large reservation system which also adds occupancy to the hotel. From what it used to be to what it is now, there has been about 25-30% growth.


Q: What are the challenges you face in Sri Lanka as an investor?

A: It's still a market we are exploring at the moment. I see that the local brands have a monopoly in the market here, so the entry cost for a brand like ours could be very high if we were to look at huge expansion in a short span of time.

So it's definitely a challenge but I see it as an opportunity as well; we can bring together a synergy with local brands, to bring together their local expertise with our international expertise. That's definitely a challenge I would like to convert in to an opportunity.

Overall, Sri Lanka is becoming a very tourism friendly nation but maybe a little more attention needs to be paid to infrastructure, newer business models, and rate controls. I think because of the potential there are a lot of models being tried in the market, but before it goes haywire policy guidelines need to be put in place so that there's more structured growth.


Q: What advice would you give the relevant authorities with regard to attracting more tourists and investors?

A: Infrastructure is the main thing, to boost connectivity, decrease travel times and improve the overall experience. From an investment point of view, these are clearly the growth areas that need to be looked at.

We would also look at what the Government is doing, in terms of easing room rate control etc. What the region will soon see is segmentation into luxury, upscale, upper upscale, mid market, and low scale. You've got consumers from China, India and Europe each with their own spend styles. When they enter a certain market, there is segmentation which starts developing in that market, so how long can you control that rate? That's the question I want to ask: Is that the wayyou want go forward, or will it be a hurdle in terms of growth?


Q: How do you plan to deal with the increase in competition that comes along with the growth in tourism?

A: This is the exact situation we face in any other market. Why would you go with Wyndham? I think it's interesting how we operate in the market, we are flexible in terms of offering not just management but also franchise. So if you compare us with any other brand in the market today, when we offer our brand on a franchise basis we offer our brand and our expertise but we allow the owner to operate on his own. So the cost of getting us as a brand is actually less than getting any other brand in the market.


Q: What sets Sri Lanka apart, investment and otherwise, from other tourist destinations in the region?

A: For an Indian traveller the biggest tourist spot used to be Bangkok, but that market is now saturated. Now they (Indian tourists) are looking for closer, yet similar destinations. With recent improvement in relations between India and Sri Lanka, it becomes an obvious choice for an Indian to travel to a place like Colombo. As such Colombo has huge tourism potential, with its beaches and relatively untouched destinations. For example in Kalpitiya there's kite surfing; for that activity, if I had to go to a part of Europe, I'd rather come to Colombo. It's a lot easier, far more accessible and it's much more within the budget.

This market also has a lot of potential to attract the MICE (Meetings, incentives, conferencing, exhibition) segment. If the infrastructure allows, this is something that can be tapped significantly, because Sri Lanka will be an easy choice for anyone who wants to hold an offsite meeting. It can also be a destination wedding market, with Indians already looking into Colombo for destination weddings. Markets like Goa and Bangkok have reached their saturation level from a consumer perspective; the consumer is becoming smarter, they want a wider array of choices and Sri Lanka then becomes a potential market for MICE and weddings.

One other thing I want to touch upon is the casino market, because there are absolutely no casinos in India on land. However there needs to be control and as I said earlier, this is the time to devise these policy guidelines which help to structure growth.


Q: What plans do you have for expansion in Sri Lanka?

A: We're looking to bring more brands here, as this country has a huge potential when it comes to various segmentations. Ramada is just one of the 16 brands under the Wyndham Hotel Group globally. We already have seven brands operating in India and we currently have two here in Sri Lanka.

Also once you see a lot of brands coming into the country, you will start realising the segmentation. Not just the brands, if you look at the kind of tourists coming in to the country now from what it used to be from maybe 10 years back, it's clear that each subset of consumers have a different requirement. Not everyone will come and pay $ 400-500, there is a consumer who would love to get a nice clean room and shower for, let's say, $ 130. That's when the segmentation comes into the picture.

Mid-market and budget, like in India, 10 years back had made probably just 12-14%. Now they're 70% of the supply. Colombo is not far away, with even local brands launching in the mid-market segment. There's a huge potential for the segment, because every area of the market needs to be catered to. Mid market and budget is definitely something, that if you have a vision today, you should definitely start looking at it as business model right now.