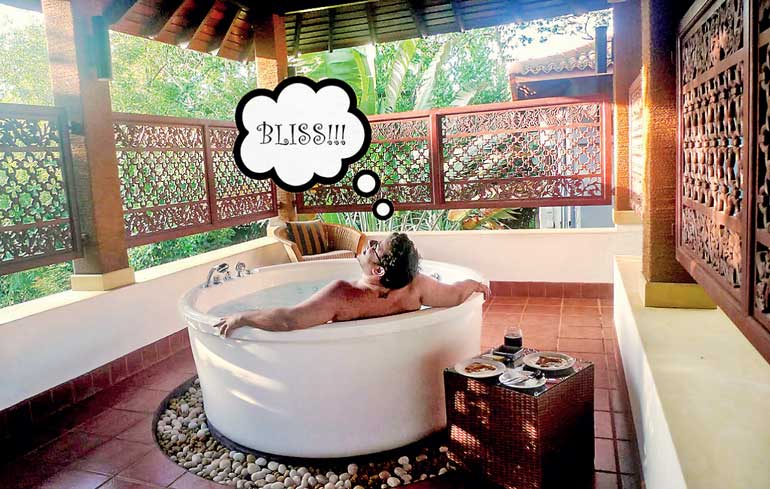 Nestled in the quiet serenity of a typical village down south, Cocoon Resort & Villas in Induruwa is the perfect getaway for anyone looking to experience a different kind of holiday. But don't take our word for it, let renowned actor, radio personality, quiz master and the face behind Hon. Pusswedilla, Dominic Kellar, tell you why.

Dominic and his group of equally eccentric buddies have been to Cocoon Resort & Villas in Induruwa five times since 2012, and were most recently at the property about a year ago.

"We love the privacy that Cocoon offers whenever we stay there. We really need to get out of the hustle and bustle of Colombo every now and then and Cocoon is the perfect escape, where we can relax and wind down. The service at Cocoon is impeccable and the decor is out of this world! We especially are in love with the Grand Villa with its private pool. No one disturbs you ever and the best part is they've never said no to any request I've made, and there have been an outrageous few," Dominic said.

Celebrating five years in the hospitality industry this year, Cocoon Resort & Villas, Induruwa was also notably awarded the TripAdvisor Certificate of Excellence for the third time in 2016. This accolade testifies to the level of service and luxurious offering at the property.

Featuring three grand villas with their own private pools, five extravagant villas with private Jacuzzis, two luxury villas with Jacuzzis and 16 other silk rooms also with their own Jacuzzis, the luxury boutique villas of Cocoon provide you with your own secret space, perfect for the modern traveller who seeks to wind down. For the ultimate rest and relaxation for the entire family Cocoon Resort & Villas has its own in-house spa, swimming pool and children's playground as well. Situated in close proximity to one of the finest beaches in the Southern coast, Cocoon Resort & Villas facilitates complimentary beach shuttles for those who wish to picnic under the sun.

Not only is Cocoon Resort & Villas the perfect hideout for groups of friends but it is also ideal for families on vacation this August. "I can imagine Cocoon being an excellent location for a family as there is a lot of space for kids to run around and do activities," notes Dominic, who highly recommends the property for your next vacation.

For more information or to make reservations at Cocoon Resorts, please contact 0722 330 890 or visit their website www.cocoonresorts.com.