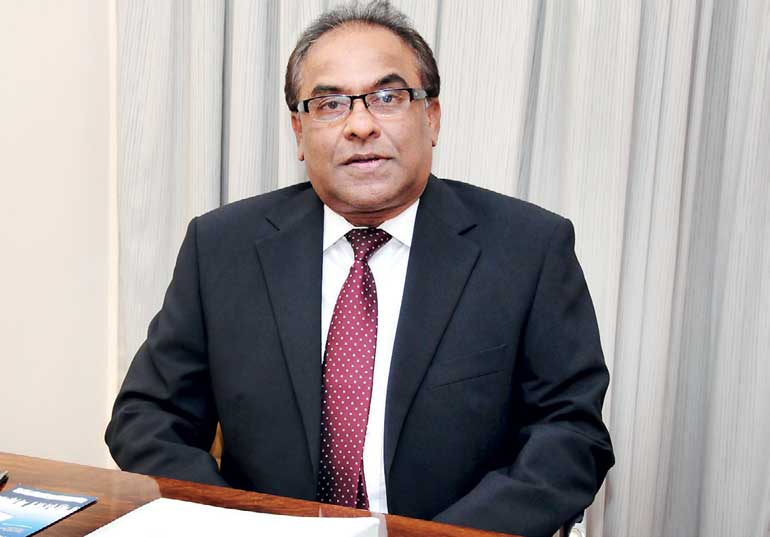 President City Hotels Association, Vice President Tourist Hotels Association and Ramada Colombo Director M. Shanthikumar
Veteran city hotelier and tourism industry leader M. Shanthikumar has warned on the dangers of the move to abolish the minimum room rate in the country. In an insightful interview with the Daily FT, Shanthikumar, who is the Director at Ramada Colombo and President City Hotels Association and Vice President Tourist Hotels Association, explains the rationale for the implementation of minimum room rate, defended its objective and benefits for the country and the impact if abolished. Following are excerpts: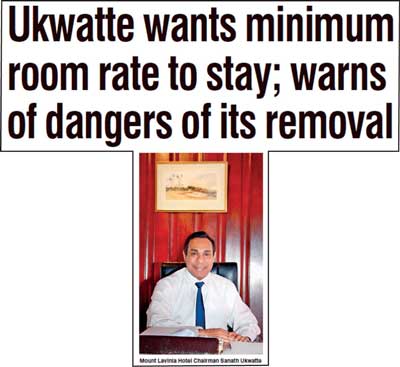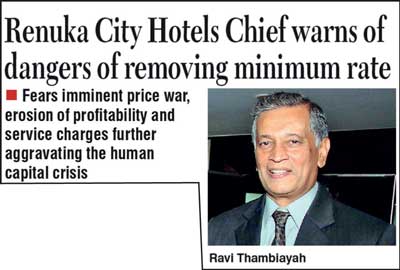 Q: What was the reason the Minimum Rate was gazetted only for Colombo City Hotels and not for rest of the country?

A: The Colombo Hotels continue to face an unusual situation for many years where market demand did not set the pricing platform. The prices were constant and extremely low where five-star hotels room rate was around $ 50. Even on rare occasions when the city hotels were running at full occupancy the rates did not change nor did it change during peak season. The same phenomena will continue if the Minimum Rate is abolished today, which is the reason majority of city hoteliers are asking to hold the Minimum Rate structure.

Colombo business is not seasonal but year round. This is because Colombo City has more of business traffic (where the company concern settle bills) and very a low percentage of holiday/leisure travellers seen traditionally to date.

This is not the case in terms of resorts. Their rates are clearly defined with season/mid season/off season pricing which varies dramatically.


Q: Do you agree with Mt. Lavinia Hotel Chairman Sanath Ukwatte and Renuka City Hotels Chairman Ravi Thambaiyah; warning the danger of removal of Minimum Rate published in their articles in Daily FT on 17 August and 9 September?

A: They are absolutely right. For Renuka City Hotels Chairman's comments see http://www.ft.lk/article/566955/Renuka-City-Hotels-Chief-warns-of-dangers-of-removing-minimum-rate and for Mt. Lavinia Hotel Chairman's comments see http://www.ft.lk/article/560167/Ukwatte-wants-minimum-room-rate-to-stay--warns-of-dangers-of-its-removal


Q: Do you really think minimum rate policy has benefited the Colombo City Hotels?

A: Since the implementation of Minimum Rate in 2010 the Colombo Hotel stakeholders (owners, operators and employees) and the Government of Sri Lanka has benefited tremendously.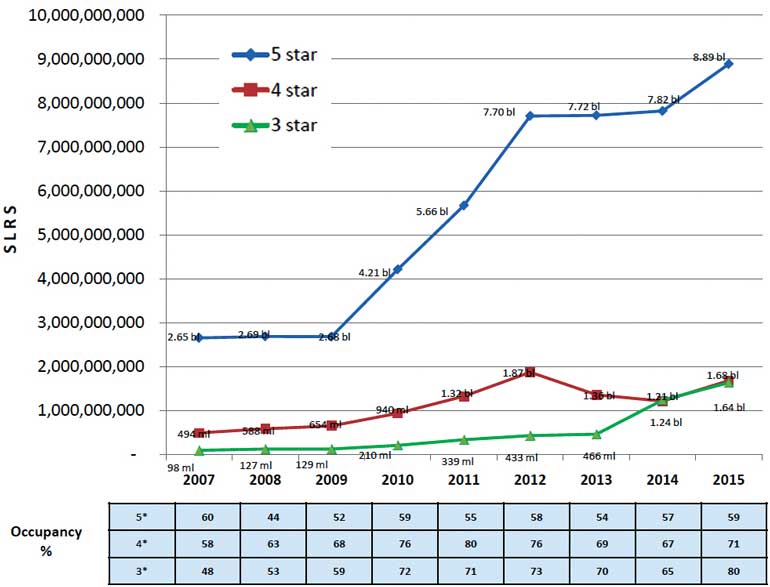 Q: Can you be more specific on what you have stated above?

A: Substantial room revenue growth was seen over the years even though the occupancy did not grow in similar lines. In the case of some categories there has been substantial inventory growth as well (See Revenue Growth chart).


Q: You talk of tremendous benefits to the Government, how do you think this works?

A: The Government has seen huge increase year on year in foreign exchange earnings and phenomenal increase in taxes through VAT, TDL, NBT and income tax contribution from the Colombo hotel industry.


Q: What do you mean by staff service charge, how has the Minimum Rate been of benefit to the staff?

A: All direct hotel employees get 10% service charge over and above the basic wage. Out of an analysis of 20 hotels in Colombo ranging from five-star to three-star the staff numbering over 15,000 members have had an additional increase of approximately Rs. 10,000 to 15,000 per person per month in their service charge due to the Minimum Rate.

For an example a staff member who received a service charge of approximately Rs. 11,000 before the Minimum rate came in to operation now receives over approximately Rs. 26,000 service charge per month above their basic wage. (See service charge graph).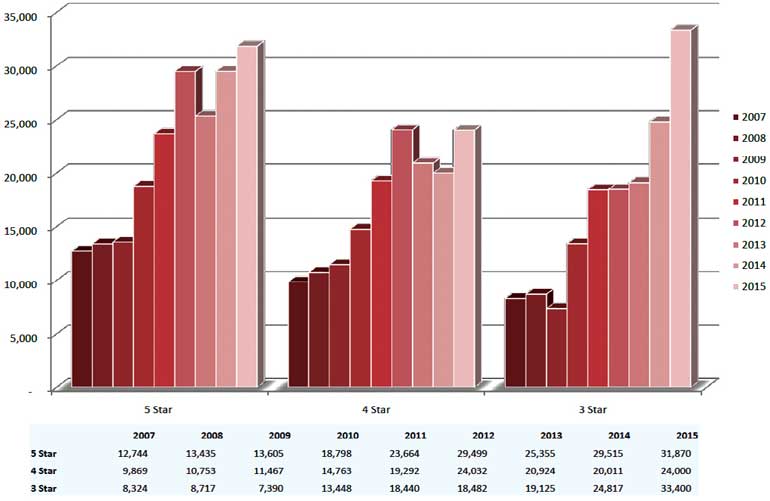 Q: There is a general belief that Minimum Rate for all categories of hotels are at $ 125 ++++ depriving people with low budgets stay in star class hotels?

A: Absolutely wrong, there is a choice of good hotel products available at different price points as indicated below for the end consumer.

Gazetted Room Only Rates

5* hotels – $ 125 + Service Charge +Taxes

4* hotels – $ 95 + Service Charge +Taxes

3* hotels – $ 75 + Service Charge +Taxes

2* hotels – $ 60 + Service Charge +Taxes

Special Air Line Crew rates

5* hotels – $ 65 + Service Charge + Taxes

4* hotels – $ 55 + Service Charge +Taxes

3* hotels – $ 45 + Service Charge +Taxes

2* hotels – $ 35 + Service Charge +Taxes


Q: There is also another belief that this gazette has impacted MICE business to Colombo. What are your thoughts on same?

A: 65% of banqueting and meeting facilities are reserved well in advance for weddings, meetings and other events. The issue is that there is no availability of meeting space to accommodate MICE business coming especially from India with short lead periods. The BMICH too is booked-up very much in advance for large scale local and international events and does not have last minute capacity availability. What Colombo needs is state-of-the-art large Convention Centre which can match up to what is available in regional destinations such as Singapore, Malaysia, India etc. People seems to be getting mixed up with banqueting facilities and convention facilities.


Q: What do you think will be the impact if the Minimum Rate is abolished?

A: Abolishing the Minimum Rate policy will have the following negative impact: Reduction in foreign exchange earnings for the Government; Reduction in taxes for the Government; Reduction in service charge to the employees; Reductions in revenue for hotel owners and operators and Hotel rates in Colombo are the benchmark for pricing in other tourism zones. Reductions in Colombo rates will have a direct reduction in rates in the other zones.