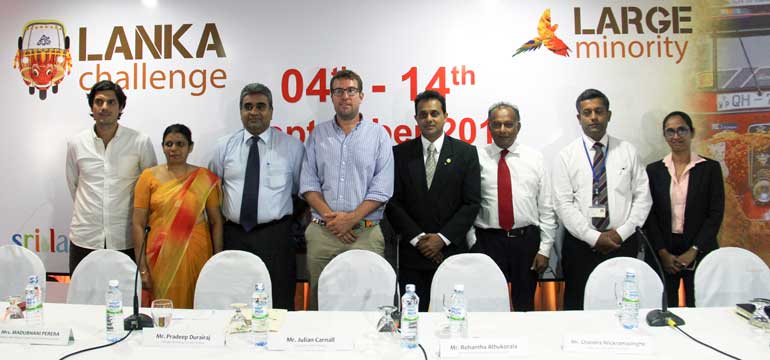 Lanka Challenge Organiser Juan Paredes, Sri Lanka Tourism Promotion Bureau Director Marketing Madubhani Perera, SriLankan Airlines Media & Public Relations Manager Lalith Fernando, Lanka Challenge Organiser Julian Carnal, Sri Lanka Tourism Promotion Bureau Chairman Rohantha Athukorala, Connaissance de Ceylon Chairman Chandra Wickramasinghe, David Pieris Motor Deputy General Manager Vehical Sale Nihal Silva and SriLanka Convention Bureau (Marketing & Promotions) Manager Kumudu Hennedige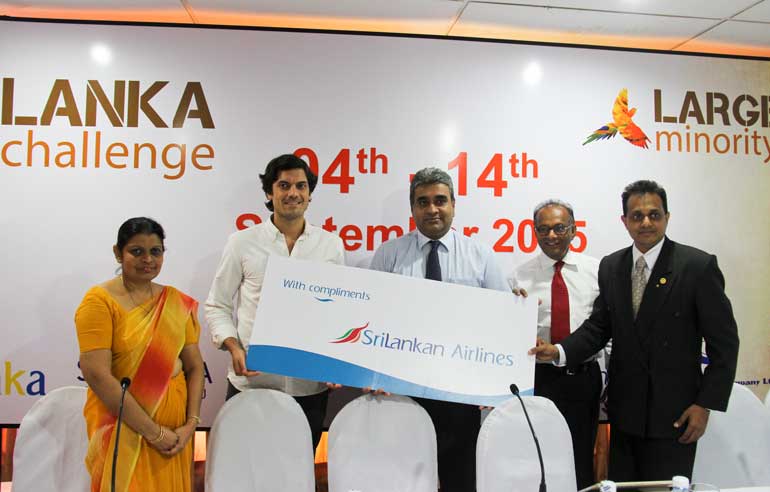 Sri Lankan Tourism Promotion Bureau Director Marketing Madubhani Perera, Lanka Challenge Organiser Juan Paredes, SriLankan Airlines Media & Public Relations Manager Lalith Fernando, Connaissance de Ceylon Chairman Chandra Wickramasinghe and SriLanka Tourism Promotion Bureau Chairman Rohantha Athukorala

By Senuri de Silva

The seventh edition of 'Lanka Challenge', an 11 day tour of Sri Lanka on a favourite mode of local transportation – tuk tuks – will kick off this Saturday from Tamarind Tree, Minuwangoda.

15 teams comprising of 35 international participants have registered for the 2015 edition of challenge organised by Large Minority for the seventh consecutive year. The event is also endorsed by the Sri Lanka Ministry of Tourism.

The route is mapped along 10 popular tourist destinations across Sri Lanka giving participants a comprehensive tour of the country in the short time span of 11 days. Destinations include, Minuwangoda, Sigiriya, Wasgamuwa, Passikuda, Arugambay, Udawalawa, Mirissa and Beruwela.

Teams of two to three tourists will drive themselves to the various challenges at these locations on the colourful tuk tuks that have been borrowed from local drivers for the duration of this tour. Completing the challenges will enable participants to win points adding a competitive twist to their journey. "It's not a race," Large Minority Co-Founder and event organiser Julian Carnell said clarifying that participants are not timed on how fast they can complete a challenge giving them the freedom and opportunity to enjoy the natural and historical sites of the island as well.


Responsible tourism

The Lanka Challenge also embraces a policy of responsible tourism and will continue to support local partners such as the Red Cross of Sri Lanka and the Land Owners Restore Reforestation in Sri Lanka (LORRIS). Last year participants had planted over 200 trees and visited local schools, interacted with the locals and raised funds for various charities. Apart from the 10% of each team's entry fee that is given directly to the partners they are also encouraged to raise at least $ 500. This money can be donated to their preferred charities in or out of Sri Lanka or added to the total of funds raised by the event.

Speaking of the positive social impact of last year's event, Large Minority Co-Founder and Managing Director Juan Paredes Goicochea stated, "Last year we collected over $ 8,000 which we used for different charitable projects including donating text books, musical instruments and planting more than 200 indigenous trees to offset our carbon emissions."


Winning flight

The winning team will be awarded a return air ticket to Sri Lanka. "It's not just about a particular event, it's about profiling this destination," said SriLankan Airlines Media and Public Relations Manager Lalith Fernando and reiterated the SriLankan Airlines' commitment to promoting tourism in the country while handing over the winners prize to the event's organisers.

David Peiris Motor Company and SriLankan Airlines are partners of the event alongside the official travel partner, Connaissance de Ceylon.


High end adventure tourism

Tourism experts have recognised Sri Lanka's potential to tap into the $ 263 billion adventure tourism market as part of a strategic plan to meet industry goals. Sri Lankan tourism has surpassed the $ 1.6 billion mark in July and as Sri Lanka Tourism Promotion Bureau (SLTPB) Chairman Rohantha Athukorala said, "We need to now move away from looking at the numbers and start focusing on quality tourists."

Therefore the Lanka Challenge is an important event that helps position Sri Lanka as a top adventure destination in this rapidly growing market.

The event costs around $ 4,220 for a team of two and is designed to attract such high end tourists. They will be accommodated at the best hotels at each location. Organisers have also been working closely with various local authorities to ensure the highest standard of safety for participants on the road. They are required to have an international driving license in order to drive the tuk tuks and will be given a day of training on the mechanics of how they are handled prior to the flag off.


Future plans

The popularity of the challenge has been growing since its inception six years ago. It has been gaining international attention and featured on leading foreign news networks such as BBC World, National Geographic and the Daily Telegraph.

For the coming years, organisers hope to expand this tour by creating a second route in a parallel challenge. The two routes will cover different series' of destinations, and give twice as many teams the ability to take part. "The demand is definitely there," Carnell told the Daily FT.

Pix by Bhanuka Kirinde