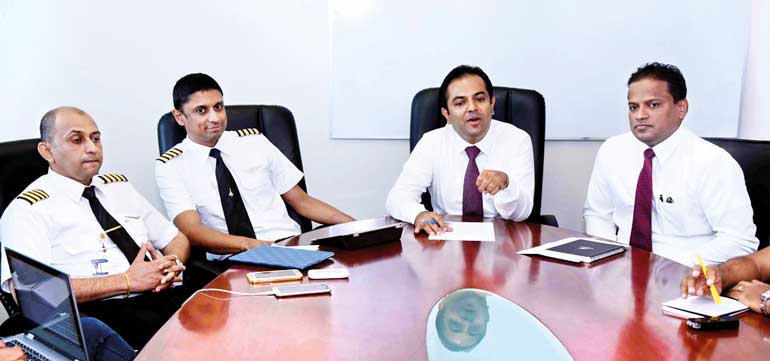 SriLankan Airlines General Manager Marketing Saminda Perera speaking to media yesterday. Others from left are SriLankan Airlines Capt Bandu Kumbalatara, SriLankan Airlines Manager Technical Capt. Ranga Mamadoru,, SriLankan Airlines Manager Media Development Deepal Perera - Pic by Samantha Perera
By Madushka Balasuriya

On 19 August a SriLankan Airlines captain, who was due to operate UL554 from Frankfurt to Colombo, failed to pass a Breathalyzer test at Frankfurt Airport in Germany, resulting in a 15-hour flight delay. SriLankan Airlines, in an effort to preempt further bad publicity, organised a roundtable discussion with the media yesterday, where they held up the handling of the situation as a shining example of their commitment to safety.

"Our number one priority is not the delay, it's not service, it's safety. By our actions safety was guaranteed. Yes, it was costly, and yes there was a delay, but safety was never compromised," stated SriLankan Airlines Management Pilot Captain Ranga Amadoru.

Amadoru added that the Breathalyzer test had been administered after two "fairly junior" crew members had voiced their concerns to top management in Colombo, something which he felt highlighted the positive culture nurtured at SriLankan.

"In the industry we operate in we (SriLankan) feel we have done quite well because we have fostered this open environment, where all our crew members can speak up if they think there is a problem."

The pilot in question has since been suspended by SriLankan Airlines and has had his Pilot licence suspended by the Civil Aviation Authority, but his actions have raised several questions as to the failsafes in place at the airline.

Currently two systems exist to prevent flights from heading towards disaster: one is Crew Resource Management (CRM), which is a set of training procedures for use in environments where human error can have devastating effects; the other is the Safety Management System (SMS), which is essentially a tool for any crew member to raise concerns anonymously.

On top of this, according to Amadoru, pilots sit multiple written examinations each year, take the simulator every six months, and are evaluated both medically and psychological on an annual basis.

"Aviation is the most regulated industry in the world," he noted. Yet Amadoru acknowledged that annual psychological evaluations may not detect sudden changes in a pilot's mental state, and highlighted once again the importance of an open culture.

"If a pilot has an issue at home - he has no history of mental ill health - and is not in a mental state to fly. Who should trap it? The best person to trap an issue is a fellow crew member," he explained.

Meanwhile, asked how long SriLankan had been aware that the pilot in question had had a drinking problem, Amadoru said he could not answer that as there was an internal investigation ongoing into the issue.