Skymark Travels Managing Director Rimzi Nazeer noted that Sri Lanka possessed a lot of potential as a marketable destination, with tropical weather patterns and its ability to host travellers all year around in different parts of the country.

He added that Sri Lanka could be the ideal destination to promote diverse activities, with most visitors enthralled with the culture and hospitality of the Sri Lankan people. "We have been having ups and downs initially but now Skymark Travels has reached deserving heights in the travel industry," he said of the company - which recently celebrated its seventh anniversary - during an interview with Daily FT.Following are the excerpts: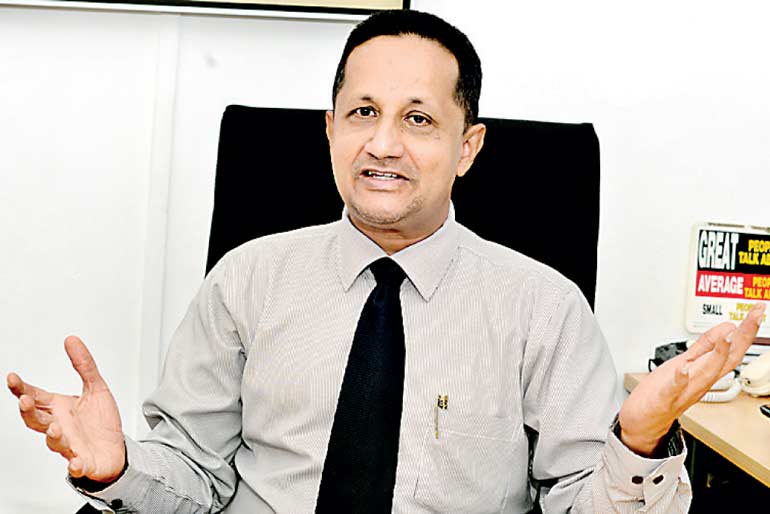 By Sarah Hannan
Q: What makes Skymark Travels stand out from other travel and tour agencies in the country? Can you tell us a bit about the history of this agency as well?

A: I have been in the travel trade for over 27 years and I have grown up with this trade. In 2008 I decided to start an agency of my own. My brother joined me in establishing Skymark Travels back then. We have a lot of return clients from which we have built a loyal client base.

The reason Skymark stands out is due to the aftersales service which I believe gives us a competitive edge. We have a door-to-door pickup and drop service and the rapport that the agency has built within the last years with the embassies has also contributed towards the success. Therefore it makes the paperwork easier and we have the ability to entertain urgent VISA requests.

At Skymark every client is treated equally despite their corporate status. Our client base also comprises clients that have been with me for the past 20 years while I was working for other travel agencies. I believe that in this field the best advertising tool that one can use is the word-of-mouth. However, to meet current demands we are also running advertisements on Google and other social media sites.

When we started the agency we only had one travel executive. We then moved into this office at Colombo 03 and managed to recruit an experienced staff. At present I have 10 staff members under Skymark Travels from which five members handle the ticketing operations and two for inbound tour management. Being an IATA agency we are required to have a workforce which is courteous and client-oriented.


Q: With the experience and exposure that Skymark Travels has gathered during the past few years how do you network with client-preferred locations of the country? Are there any partnerships that you have worked out so far?

A: Skymark Travels always prioritises the requirement of the client and based on that we customise their holiday itinerary. Our country has a wide range of choices to select from, starting from pristine beaches, UNESCO World Heritage Sites, forest reserves, bird sanctuaries, picturesque mountain ranges, the list goes on.

For instance if you take our clients from Middle Eastern countries, they prefer to experience a lot of greenery. Their main destination is the hill country and the ride from the airport to the destination provide them with ample views of mountain ranges, paddy fields, tea estates and a cross section of various cultures within the cities that they would pass on their way. Depending on their arrival time we keep them one night in Negombo or one night in Colombo. An ideal tour itinerary for this market segment will include a visit to Kandy, Nuwara Eliya, Dambulla, Sigiriya, Yala and cut across to the southern coast, ending the trip back in Colombo.

Our client segment from Europe prefers to be in the coastal areas and we promote the beachside hotels and the things they can do around those areas. Skymark hosts clients who are at the higher end of the tourist segment and we usually put them up in 4-5-star hotels. That way we can guarantee that the service they get is of a high standard.


Q: What are your future plans and how has the change of government affected your agency?

A: The current administration at the Tourist Board is giving a lot of opportunities to SMEs like us. The recent programs that the Chairman and his team have established have taken Sri Lanka into a higher level as well. With that we are also changing our focus to different client segments.

Earlier we had more Chinese tourists and on top of that most of the tourists who came to Sri Lanka did not spend their money on shopping for local items. Therefore we did not have an in-flow in terms of monetary exchange.

Rohantha Athukorala's vision is different, where he thinks of the upmarket tourists and he is aiming to promote Sri Lanka in the Scandinavian market. Long ago we had tourists who came from the European market but it decreased due to various reasons. Within the last few years we have overcome these obstacles and now have to develop our skills in the travel and tourism sector. We need to upgrade the hotels and have the necessary infrastructure in place.

Our transport modalities have improved and we can get to our destinations in double the speed. Especially with road network improving and other transport modes opening up clients can chose to cover different parts of the island in a short period of time. If you look at the city hotels in Colombo itself, they have upped their standards of service and guest amenities, and come at a higher price tag. However, most of the clients prefer to stay away from the cosmopolitan area and choose locations outside Colombo to spend their holidays.


Q: Looking back at where you started and where you are now, how has the journey been? What are the improvements that you have seen within the agency?

A: Our year-on-year performances have been growing each year but I believe that there is room for improvement as well. Every day is a learning experience and not that we get satisfied customers all the time but they are at least 90% of the time happy.

We are open for criticism and after each transaction we give a courtesy call to our client to collect their feedback. Our target for this financial year is to grow at least 25%-30% from the previous financial year.

Though we have not received recognition by way of awards, we have been duly recognised by way of merit. Especially, the trusts we have earned through the embassies are immense and every time we have to get paperwork done and we send a letter under our agency letterhead they attend to our requests immediately. Being an IATA and TASL member agency allows Skymark to operate at a higher standard and also gain clients in the trade.

Earning a client's respect and trust is of the utmost importance and I have inculcated this trait in my staff as well. I always tell them that it is easy to earn money but not respect and if you earn the client's respect you will also earn an extra client but if you try to cheat a client you will lose their respect as well as the client.