After an official delivery ceremony in Seattle, the Dreamliner flew direct to Dubai Airshow
Airline opens '#787Filter' community on Instagram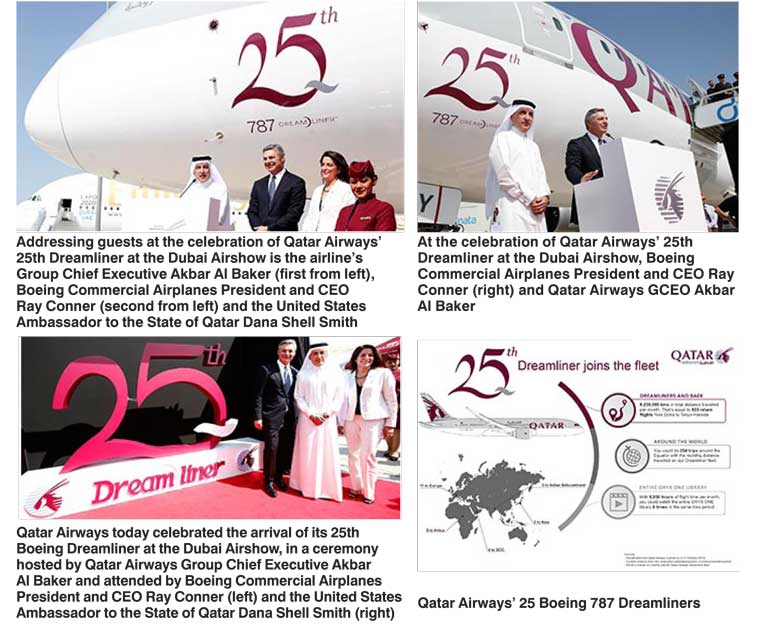 Qatar Airways celebrated the arrival of its 25th Boeing Dreamliner at the Dubai Airshow, in a ceremony hosted by Qatar Airways Group Chief Executive Akbar Al Baker and attended by Boeing Commercial Airplanes President and CEO Ray Conner and United States Ambassador to the State of Qatar Dana Shell Smith.

"This is a milestone event for Qatar Airways and Boeing, and we are happy to celebrate with everyone at the Dubai Airshow," said Al Baker. "Qatar Airways has grown significantly since our first Dreamliner delivery in 2012, when we were the Middle East launch customer of the aircraft. In three short years, we have taken delivery of 25 787s and fly it nearly two million kilometres a week from Doha. This aircraft provides more comfort for our passengers and better efficiency for our airline, and we are thrilled to be the airline with the most Dreamliners in its fleet in the Middle East."

One of the unique features of the Dreamliner is its windows with automatic shades with pre-set levels. To celebrate the delivery of its 25th Dreamliner, Qatar Airways has launched an online community art project via its Instagram account, called '#787Filter'. Instagram enthusiasts are invited to use these pre-sets as their 'filter' and submit original art work using the tag #787Filter on their Instagram accounts. Instagram popularised the use of filters to enhance photos, and the social network is now the most popular image-posting site in the world, with more than 300 million users world-wide.

Qatar Airways' 25th Dreamliner sports a signature decal on its nose, identifying it as the milestone delivery from Boeing's Everett facility in Seattle, Washington. This aircraft, officially delivered to the airline in a ceremony in Everett on 4 November, then flew directly to the Dubai Airshow, with a brief stopover in Doha.

Made up of composite materials, the 787 Dreamliner is lighter and more fuel-efficient than any comparable aircraft of its size and range, and has unique features such as larger windows, reduced cabin noise and cleaner cabin air.

Qatar Airways 787 has 254 custom-made seats across its Business and Economy Class cabins with specially designed interiors. Business Class is configured 1–2–1 with 22 seats, while Economy has 232 seats in a 3–3–3 layout. All seats in Business Class are fully reclinable.

The airline's 787s are the world's first fully connected Dreamliners with wireless facilities for passengers to remain in touch with friends and colleagues on the ground through the internet and SMS mobile texting across both the Business and Economy cabins.