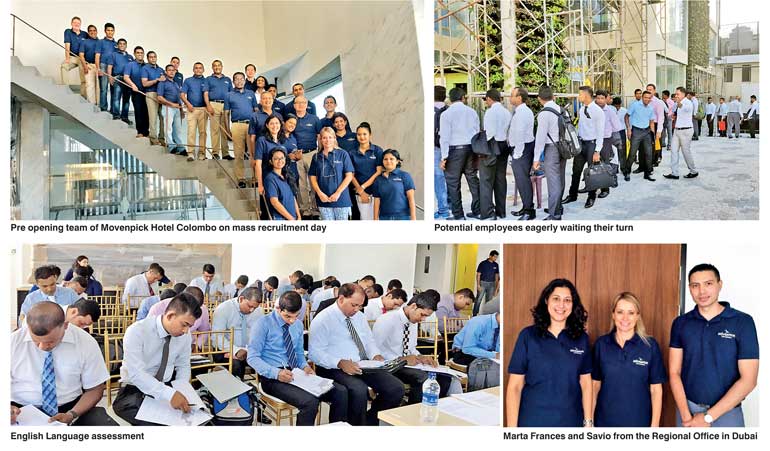 Mövenpick Hotel Colombo opened its doors to over 1,000 candidates on 10 October to conduct its first ever mass recruitment in the city. Mövenpick Hotel Colombo is the first five-star hotel to open in Colombo after 25 long years, and the excitement was evident as the queues commenced as early as 7 a.m.

Smartly dressed, local potential candidates lined up eagerly, awaiting their turn as the interview process began shortly after. Over 1,000 candidates were interviewed for various positions, ranging from Food and Beverage, Health and Fitness, to Kitchen, Housekeeping and Front Office.

The Pre-Opening Management team was assisted by skilled Human Resources representatives of Mövenpick Hotels & Resorts, resulting in a seamless process throughout the busy day. Candidates were assessed against selection criteria and some were also requested to complete a short English language examination based on the positions they applied for. The successful candidates were then divided into groups and are currentlyundergoing an assessment process, qualifying a handful of talented and charismatic employees to join this renowned international chain.

Due to open in January 2017, Mövenpick Hotel Colombo is located next to Liberty Plaza, in the heart of the city. It embodies Sri Lankan hospitality delivered with Swiss passion. The hotel boasts 200 well-appointed rooms, 19 suites and restaurants that offer a range of dining experiences. The meeting rooms can host business meetings and social gatherings. Meanwhile, the hotel's spa and fully equipped gym share magnificent ocean views, whilst the infinity rooftop swimming pool offers the perfect spot to unwind after an exhausting day at work.