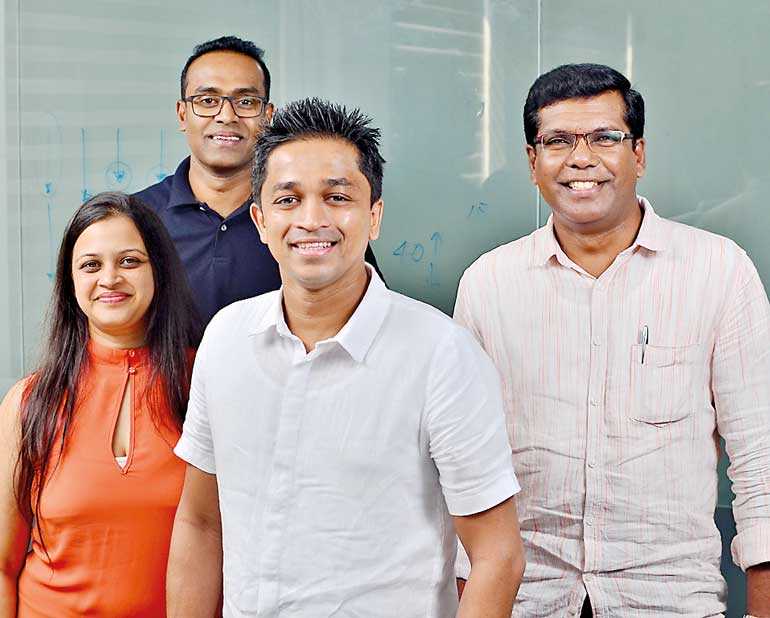 The eMarketingEye management team. From left: Digital Marketing Vice President Kusalika Basnayake, Web Solutions Vice President Suranga Rajakaruna, CEO Rajitha Dahanayake and Chief Operating Officer Shameera Liyanage
eMarketingEye, the award-winning digital marketing agency and pioneer in the Asian region specialising in the hospitality industry, has officially launched giftsEye, an eGift certificate system designed and developed in-house for the travel and hospitality industry.

Tapping into the company's in-depth knowledge and experience in the hospitality industry, eMarketingEye was able to identify the potential for the industry to boost revenue by taking advantage of gift certificates. Resultantly, the company designed and developed giftsEye, made specifically for standalone hotels, hotel chains, restaurants, spas and travel companies.

giftsEye enables customers to easily purchase an eGift certificate of the hotels for offerings such as a room, dining, spa or combined package of all, and gift it to their loved ones instantly. giftsEye allows you to create two types of eGift certificates - cash cards and packages. Through cash cards, customers have the flexibility to define the cash card amount or select from a range of amounts the hotel has defined. They can conveniently customise the cash card based on the occasion and include a personalised message in the form of a text or video. By using packages, the hotel can define customised gift voucher packages for customers to select from and gift it to their loved ones. These could be offers such as a two-night stay, Christmas dinner, birthday, anniversary, long weekend stay and much more.

For customers wanting to gift a certificate from their favourite hotel, restaurant or spa, using the system is fast and simple with its quick and easy four-step process and mobile-friendly design. All they have to do is select the required gift package (cash card or package), enter the details of their loved ones and the customised message using text along with a personalised image or video clip and make the payment online. They can directly email the eGift certificate to their loved ones or download and hand deliver it to the recipient. A scheduling option ensures that the certificate is delivered to the recipient on the preferred date.

A number of local and international hotels have already signed up to deploy giftsEye and have successfully brought in a new dimension to their marketing and promotional efforts. Advanced access controls and reporting features enable these organisations to manage the system effortlessly and monitor the progress of all eGift certificates.

eMarketingEye CEO Rajitha Dahanayake said: "As a pioneer in the Asian region providing solutions to the travel and hospitality industry, eMarketingEye is constantly looking at ways to uplift the industry. The eGifts certificate system is our latest contribution to boost revenues in the industry. We feel it is an under-utilised area with a lot of potential. This is a new channel of revenue and is ideal for off-peak seasons and special promotions. The system completely eliminates manual work and streamlines the entire gift certificate process so that the hotel or restaurant can maximise its revenue with minimum effort. Customers can purchase any type of eGift certificate with a few clicks and send it immediately to their family and friends."

eMarketingEye is the largest digital marketing agency in Sri Lanka and the only one specialising in the travel and hospitality industry. Established in 2007, the agency has grown to be one of the best in the Asian region over the past 13 years, having gained international recognition for its expertise in providing end-to-end digital marketing solutions to the travel and hospitality industry. eMarketingEye offers a total range of digital marketing services from website design and development to performance-driven search marketing and social media solutions along with an array of innovative digital products.

In addition to being a Google Premier Partner, the company is Sri Lanka's first Google Marketing Platform Partner certified in Search Ads 360 and Analytics, one of the first in the South East Asian region to earn this prestigious recognition. The agency has proudly served over 1,000 of the world's best loved hospitality brands, executed over 4,500 projects and won over 220 awards during the past 13 years. eMarketingEye is widely considered to be a thought leader in Asia.