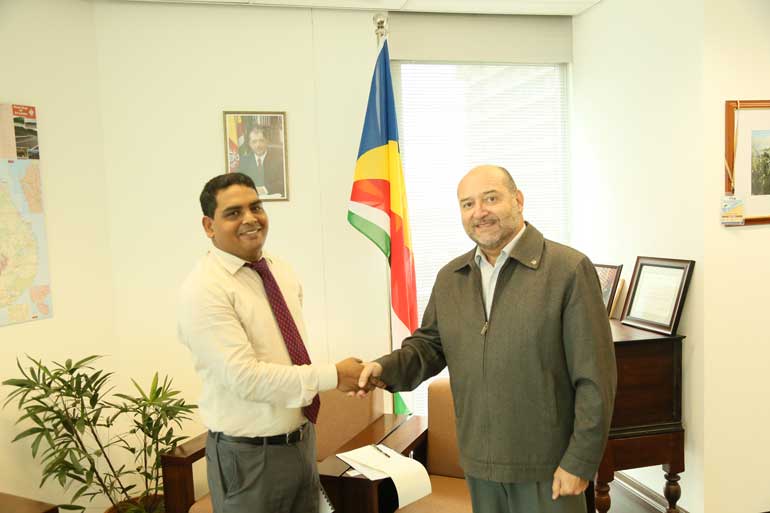 Chamber of Tourism and Industry President A.M. Jaufer met High Commissioner of Seychelles to Sri Lanka Philippe Le Gall on 2 March and had an exchange of views on the tourism potential in Sri Lanka with special emphasis on the ways and means to harness tourism resources in the Eastern Province and, whenever possible, draw inspiration from Seychelles' success story as a top island destination.

Jaufer made a presentation on the rich diversity of resources available in the region for investment and tourism promotion, insisting on the competitive advantages of medical tourism, sports tourism, eco-friendly tourism and MICE. He also stressed the importance of the private sector's initiatives and said that tourism development is one of the key points on the agenda of President Maithripala Sirisena and Prime Minister Ranil Wickremesinghe. Jaufer noted that the very good relations they had built with the international community were conducive to such development.

The Seychelles' Envoy congratulated the Chamber of Tourism and Industry for its commendable initiatives towards tourism development – in the Eastern Province in particular – in line with the leadership shown by the Government to promote sustainable tourism as a major contributor to national growth. He said that as a newcomer he was impressed by Sri Lanka's resources in terms of historic heritage and natural heritage, and, equally important, as people should always come first when talking of assets: the sense of hospitality, with a distinctive Sri Lankan touch, and the spontaneous kindness he has appreciated in many tourism places in the country.

High Commissioner Le Gall expressed his confidence in the strengthening of the relations of friendship and cooperation between the two countries. He said that a new phase of mutually-beneficial exchanges is about to take shape and tourism and trade are at the heart of this dynamic. The High Commissioner added that he would liaise with the Seychelles Tourism Board and Seychelles Tourism Academy to facilitate cooperation in this area, also with the assistance of his colleague the High Commissioner of Sri Lanka to Seychelles.

Jaufer invited Le Gall to come and assess by himself the potential of opportunities existing in the eastern region. The High Commissioner accepted the invitation and expressed his willingness to interact with tourism professionals during his visit early April and brief them on Seychelles' experience and know-how, as well as the role of local communities as active players in the development of regional tourism resources.