Invests Rs. 80 m for trio of pools, develops a world class property
As a prelude to the peak winter season, Calamander Unawatuna Beach opened two stunning Italian glass mosaic pools, both a mercurial shade of vermilion, mirroring the spectacular sunsets that Unawatuna Bay is famous for. 'The Sun' pool, a generous 25 metres in length and 20 metres at its widest, is crowned by a fabulous outdoor jacuzzi, seating a minimum of six-eight people, a perfect place to while away the time, gossip with friends and family, or indulge in its restorative benefits.

Surrounding this amorphous shaped pool, to some, echoing the shape of Sri Lanka, and to others, a pulsating heart, natural travertine stone and wood style decking form a contrasting necklace around the water. 'The Turtle', dedicated to children under the age of eight years old, is a beautiful oval pool inlaid with a glittering mosaic turtle.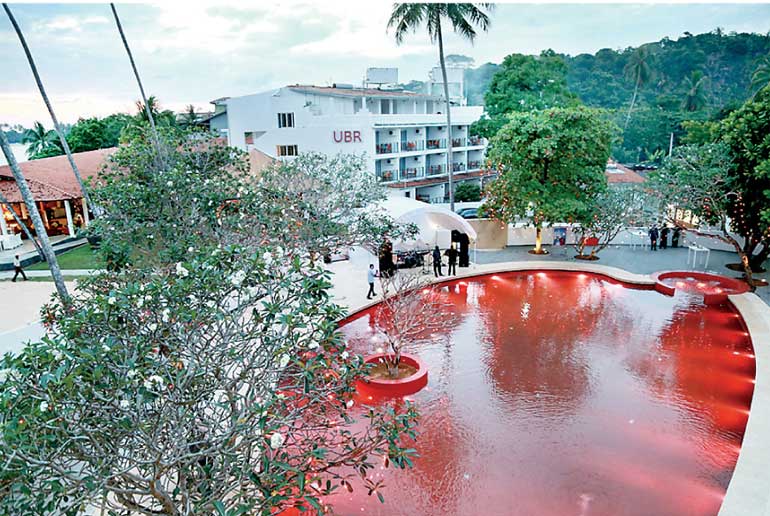 The Sun and Turtle pools are a stunning enhancement to the luxury wings of the hotel. With 22 luxury rooms of 50 sq m, generous bathrooms with indoor jacuzzis; all with balconies overlooking the pools, and the upper floors with views of the sea and beach, Calamander Unawatuna Beach has a further 61 rooms particularly suitable for guests who are looking for great value.

Unawatuna Beach Resorts Ltd. Chairman and Managing Director Roman Scott spoke at the launch party, to family, friends and business associates of his passion and commitment to investing and creating businesses in Sri Lanka. "Having reached a significant milestone, creating Calamander Unawatuna Beach out of the legacy of the old Unawatuna Beach Resort, into one of the best resorts in Sri Lanka, I am immensely proud of all those who have helped me on this journey. The world famous Unawatuna Beach is now complimented with three world class swimming pools," he said.

The resorts' super deluxe (32 sq m) and deluxe (25 sq m), are close to the restaurant and reception, and have a feeling of intimacy and homeliness that very few medium to large hotels can match. And two ground floor rooms are equipped with rails and are wheel chair friendly. All the rooms benefit from ultra modern bath room furniture, including Hans Grohe taps, shower heads and Bravat wash basins. In some of the super deluxe rooms, there are bath tubs, and there are four deluxe rooms that have connecting doors and can be co-opted into family suites. All rooms, irrespective of category, have complimentary bottled water and tea and coffee making facilities, flat screen TVs with a comprehensive viewing menu in many languages and a mini-bar, providing a popular range of spirits and soft drinks.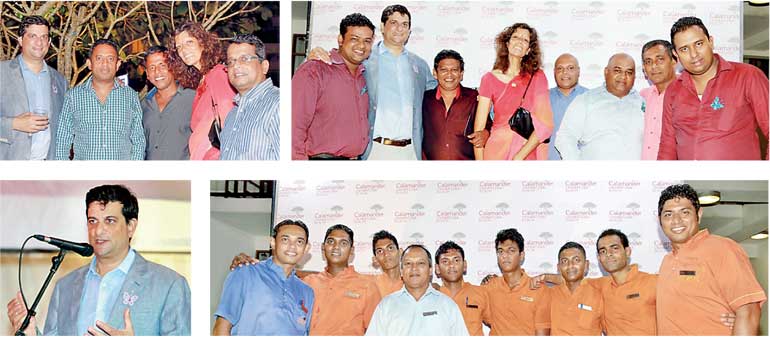 The Calamander Unawatuna Beach style is minimalist and functional. All beds have five-star quality mattresses and good quality linens. The super deluxe and deluxe rooms have all been fitted with bespoke Don Carolis mahogany furniture. There is free Wi-Fi throughout and in the public areas, Wi-Fi hot spots. On the beach side of the resort, our famous 25 metre glass fronted lap pool sits in a private sand garden with wonderful views of Unawatuna beach. Adjacent, is the increasingly popular beach bar, the idiosyncratic 680 blu bar; open all day, until 3 a.m. Our beach side restaurant with the largest single wood roof span after the Parliament building, offers a daily buffet, a la carte and set menus.

With the recent investment of Rs. 80 million to create a trio of world class swimming pools; Calamander Unawatuna Beach is poised to become one of the premier beach resorts in the country. With official Carbon Neutral accreditation and further investment in the coming years to diversify power and utility consumption to more eco-friendly systems, the reinvention of a well loved but neglected institution, the old UBR, is nearly complete.