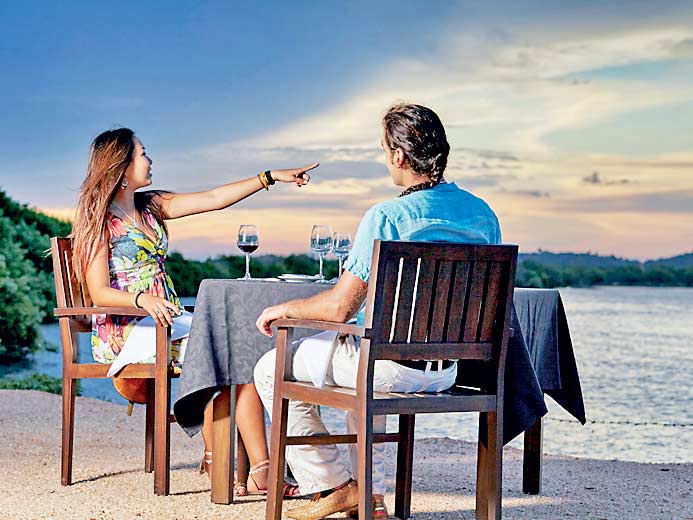 Amaranthe Bay Resort & Spa is a chalet-type luxury resort located in the tourist hub of Uppuveli, 6 km (3.72 miles) north of Trincomalee town; about six hours drive from the capital Colombo.

Trincomalee, the port city in Sri Lanka's east coast, situated 260 km from Colombo, has the fifth largest, and one of the world's safest natural deep-water harbours, and miles of unrivalled pristine beaches and tranquil blue sea that entice travellers to relax as well as explore.

Connected by road, rail and air, Trincomalee offers a variety of activities and places of interest to suit different age groups and leisure pursuits. Beach activities include whale, dolphin, turtle and bird watching as well as surfing, scuba diving, snorkelling, fishing, wreck and coral diving. History lovers will be fascinated by the architecture of ancient Buddhist and Hindu religious sites and the Trincomalee War Cemetery, while the adventurous would be stirred by canoeing up Mahaweli River, the longest in the island.

Fringed by a coral reef off Nilaveli Beach in Trincomalee, Pigeon Island National Park is the only national park that nurtures the entrancing Blue Rock Pigeons. It also contains some of the best remainin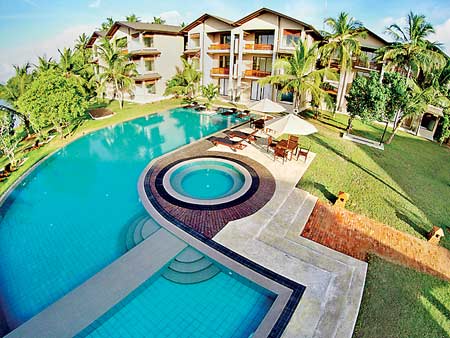 g coral reefs of Sri Lanka. Sharks, rockfish and other ornamental fish that compete for space in the reef will fascinate divers.

The east coast was once popular among tourists but the 30 year long conflict in the country prevented the east from being developed as a tourist destination. With the return of peace and tranquillity to the island, and east coming in to season from about April to September when the west coast goes under the clouds of the South West monsoon, it is time for Sri Lanka Tourism to market the east coast with vigour as a summer destination. In fact, such a drive would make Sri Lanka a year round destination. Such a thrust has become all the more important with numerous investors moving in to the east coast and developing upmarket hotels in and around Trincomalee, Passikudah and Arugambay areas.

The Amaranthe Bay is a Rs. 600 million investment and major part of the equity has come from two investors from the United States. Taking in to consideration the labour hiring policy of the managing company, River View Palm Hotel Ltd., giving preference to the local population to meet the staffing needs, the USAID has provided a generous grant and closely supervised the project until its completion, while the loan component of the project has been provided by the Bank of Ceylon.

Consequently, the company has devoted considerable time in identifying unemployed local youth, who would choose to make hospitality industry their career and provided training to get them on their feet.

'Amaranthe Bay has an idyllic setting in a shady coconut and Palmyra grove, facing the meandering Pillaikulam Aru. The 30 spacious rooms with teak floors and hand crafted mahogany furniture offer a panoramic view of the Pillaikulam Aru, beyond which is the vast Indian Ocean. Each room comes with a Jacuzzi; free Wi-Fi, mini-bar facilities, IP telephones and room safes for peace of mind. A state-of-the-art electronic key card system assures maximum room security.

The upmarket resort offers comfortably furnished, air-conditioned and non-air-conditioned dining areas. A cosy bar that comes to life as darkness falls includes a pool table, dartboard and an extra large wide screen with sports and music channels. The therapists at Calamander Spa will provide guests with an unforgettable rejuvenating and total de-stressing experience. The Bibiliotheque, primarily a sit-down restaurant, can be converted into a meeting room when required and can accommodate 150 persons, theatre style and 60-banquet style.

A 20-metre emerald green pool with a public Jacuzzi invites guests to a soothing aqua experience, while the nearby Calamander 'i-bar' with its traditional thatched roof, is a Caribbean-themed pool hangout.

Amaranthe Bay, with enchanting surroundings, is a perfect wedding and honeymoon destination. Its family focus beckons family outings and social gatherings, while its professional ambience and contemporary facilities provide the ideal setting for residential conferences, seminars, conventions, and corporate events.

For more information and reservations, please contact a travel professional or access the website http://www.Amaranthebay.com.