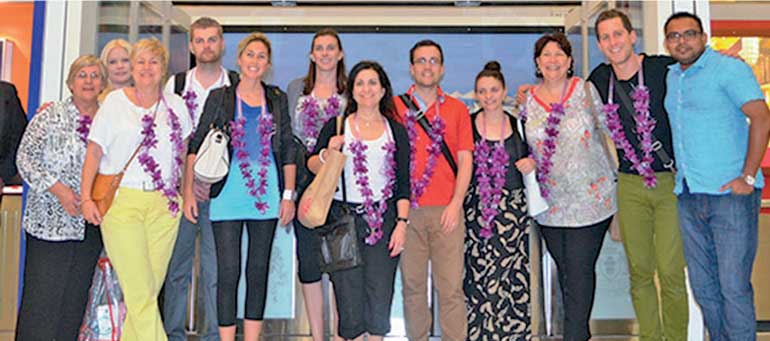 Aitken Spence Travels surpassed previous year's 100,000 arrivals recording 129,000 visitors, solidifying the potential of Destination Sri Lanka
Aitken Spence, Sri Lanka's largest destination management company, closed the 2015/16 financial year recording the highest tourist volume handled by a single local travel company. Aitken Spence Travels delivered on the daunting task of following up last year's benchmark of 108,000 pax, with a landmark 129,000 inbound arrivals. The accomplishment is an optimistic upturn for destination Sri Lanka and the local tourism industry at large.

"This is a really important accomplishment for us and it would not have been possible without the valuable contributions made by our tour operator partners worldwide and the admirable performance of our staff. We thank our hotel partners, airline partners, suppliers and overseas representatives for their shared commitment to grow Sri Lanka's tourism. It's important to see the bigger picture here and that is the massive potential destination Sri Lanka has towards increasing our share of the global tourism market," noted Nalin Jayasundera, Managing Director of Aitken Spence Travels.

Aitken Spence Travels has employed an aggressive approach, focused on promoting Sri Lanka to new market segments, whilst increasing the numbers from the traditional markets and ensuring highest levels of service. These initiatives have been critical contributory factors for the company's success.

An increased focus on digital customer touch-points, including the functionality of the Aitken Spence Travels website and other new media has further strengthened the company's drive for new arrivals. The efforts were recognised when the Aitken Spence Travels website ranked among 23 winners categorised as "Best in Class" from over 255 international entries at the recently awarded Interactive Media Awards 2015.

Aitken Spence Travels is fully diversified in to every aspect of tourism related activities namely; leisure, eco, adventure, MICE, shore excursions for cruise liners and luxury. The integrated portfolio of products has enabled the company to explore new market segments and offer an unparallelled service to its customers.

Capitalising on the company's diversification, Aitken Spence Travels succeeded in claiming over 60% of the cruise market and a significant share in the sports tourism segment. Heavy emphasis is placed on developing new revenue streams and building on existing channels in order to continue delivering on the full potential of the inbound market in the future.

"Looking ahead we see a lot of potential for destination Sri Lanka and we are confident that our continuous efforts will be able to strengthen Sri Lanka as a highly competitive destination in the global market. Our efforts in innovation, product development and marketing will be continuous and we hope to achieve a lot more in the coming years", Jayasundera commented on the future for Aitken Spence Travels and the industry.

Continuing the trend, the company is confident that its efforts to bring in greater numbers of tourists on charter flights from key source markets in Europe would bear fruit in 2016/17. Aitken Spence Travels is working on expanding charter flights from several key Asian markets.

AITKEN SPENCE TRAVELS

Aitken Spence Travels, a fully owned subsidiary of Aitken Spence PLC is the largest tour operator in Sri Lanka with an estimated annual inbound volume of 120,000 tourists. As an award-winning outfit of travel and tourism trade veterans, Aitken Spence Travels strives to go the extra mile and a half in the tourism industry.