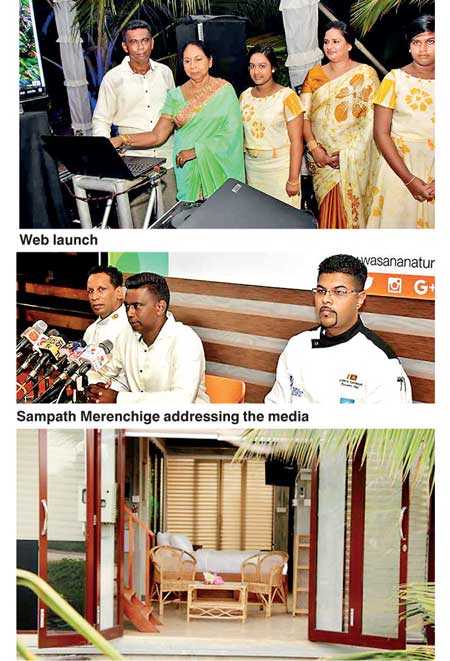 Wasana Trading Lanka the proud owner of the largest vehicle yard in Sri Lanka made a large foot print in the hospitability industry on 1 April with the launch of 'Wasana Nature Resort and Restaurant'.

Wasana Trading Lanka thus establishes its name in the leisure and nature hospitality sector with the launch of the gorgeous Nature Resort and Restaurant spread through a mesmerising five acre landscape in Nagoda Kandana.

The project which is planned to be completed in three stages is an exciting opportunity that could not be witnessed in an urban area like Colombo. Here the public with get the opening to enjoy a quiet dwelling in a serene environment enjoying local and foreign cuisine with the true spirit of nature in close vicinity of Colombo.

The nature paradise Wasana Nature Resort and Restaurant is build according to great vision and concepts of Wasana Trading Company Managing Directors Sampath Indika Merenchige and Director Asiri Dayan Merenchige which will be 100% eco friendly structure.

Already two cabanas have been opened at Wasana Nature Resort and Restaurant with a accommodation capacity of four in each cabana for those seeking to spend a memorable holiday. Also according to the customer choice, dining facilities too has been arranged in an A/C or non A/C environment with five types of banquet halls commissioned for clients who require facilities to hold functions.

Also a fascinating network of water channels with duck model boats deployed for the enjoyment of customers and with special equipment put in place for children to engage in games and play. Another north worthy inclusion which will be a public attraction is the fully equipped Ayurveda Centre that will serve the needs of local as well as overseas tourists who visit the nature resort. The astonishing reservoir that spread through the five acre land makes the resort a spectacular place with a paranomic view of the beautiful natural scenery.

The management ensures its customers the best Italian and Chinese cuisine prepared by chefs with international class from the restaurants in the resort. "The name Wasana has built a huge reputation in the vehicle industry in Sri Lanka. Wasana Tading is also well known to be the largest yard that consists of eco-friendly vehicles in Sri Lanka. We entered the hospitality industry too keeping this nature friendly concept in mind. Once the project is completed in three stages, the five acre fascinating landscape will comprise 30 cabanas, a spectacular swimming pool and a banquet hall that could host over 600 people. With the establishment of Wasana Nature Resort and Restaurant both local and foreign tourists will get the opportunity within 20 minutes to reach the destination which will fulfil all their needs in Colombo itself, said Wasana Nature Resort and Restaurant Managing Director Indika Sampath Merenchige.

More details could also be obtained from the website wasananature.lk or by ringing 011 7664664.