---
An unusual visitor was spotted off Dalawella Beach in Unawatuna, Sri Lanka on 20 November. Based on available video footage forwarded by Sri Lanka Navy Commander Vice Admiral Piyal De Silva,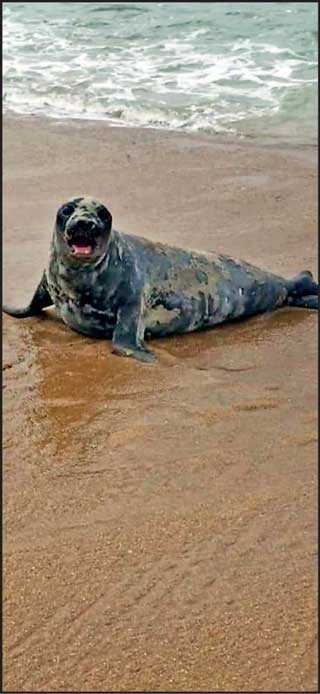 Oceanswell Founder and Executive Director Dr. Asha de Vos, along with a team of international experts, was able to identify it as a juvenile southern elephant seal.

This individual, a vagrant, is thought to have arrived from the Kerguelen Islands, roughly 6,500 km due south of Sri Lanka. Through Oceanswell's social media networks, it continued to provide updates on the status of the animal and in return received invaluable information from local community members which allowed it to track and safeguard it with the help of the Sri Lankan Navy and the Department of Wildlife.

Over the next week, the animal was seen 'hauling out' on the beach or on the rocks in various locations along the southern coast including Midigama and Polwathumodara. At each location, human interference resulted in the animal swimming away.

In a social media update on 23 November, Dr. De Vos stated that the best thing to do was to give it space. In a further update on 27 November, she stated: "Our priority is to give the animal as much space as it needs so that it can rest as necessary. It may also be looking for a place to haul out so that it can go through a catastrophic moult."

This was concluded based on discussions with Dr. Claire Simeone of the Marine Mammal

Center of the US and Dr. Greg Hofemeyer from the Port Elizabeth Museum in South Africa, both of whom are experts with extensive experience working with seals.

Based on a photo submitted by Stanley Ariyawansa on 3 December, Dr. De Vos provided a further update, saying: "As you can see, our unusual visitor, the elephant seal, is starting to look a little tattered with patches of missing fur - this is because the animal has begun its annual moult. The annual moult is a completely normal event and one that we expected would happen given the behaviours we have been observing. Moulting is the process by which elephant seals replace old skin and hair. While most animals shed hairs year-round (like a dog), elephant seals do it all at once.

The process is so abrupt that it is called a 'catastrophic' moult. Because the animal is susceptible to the cold during this period, it spends the entire month 'hauled out' on land. During this time, it spends most of the time dozing and lazily flipping sand onto itself in an attempt to manage body temperature. It does not eat and may lose up to 25% of its body weight. Dr. De Vos cautioned the public not to attempt to move it back into the ocean.

The seal is particularly vulnerable at this time as the moulting process is intensive and takes energy.

As a result, it is quite vulnerable to being disturbed and can feel threatened and therefore get aggressive if anyone gets too close. So we continue to ask that people maintain their distance (minimum of 25 m) and give the animal sufficient space to go through this important lifecycle event."

Oceanswell asked the general public to send any updates via its social media (@OceanswellOrg on Facebook and Instagram) and remain a minimum of 25 m away from the animal so as not to cause any disturbance or risk getting bitten.

The organisation said it was grateful to the Sri Lanka Navy and Department of Wildlife for their work on the ground as well as the numerous individuals who had come together to provide updates, photos and footage to help Oceanswell ensure that proper action was taken to safeguard this marine visitor.

Oceanswell is a Sri Lankan marine conservation research and educational organisation that envisions a world where everyone is equipped and committed to protect all ocean life.

Oceanswell's mission is to change the ocean's trajectory by nurturing the next generation of diverse ocean heroes, equipping underrepresented nations to conduct marine conservation research and to inspire meaningful conversations about the magic of the world's oceans.

For more information, contact Dr. De Vos at asha@oceanswell.org or visit @Oceanswellorg on Facebook and Instagram.