From left: Emirates Senior Operations Executive Iroshan Edussuriya, Emirates Assistant Manager Viroshana Herath, Emirates Head of Commercial Operations Dinuka Sumithrarachchi, Emirates Country Manager Chandana De Silva, Emirates Head of Passenger Sales Devika Ellepola, Ticket Gadget Co-Founder/Chief Executive Officer Dr. Harshani Perera, Ticket Gadget Co-Founder/Chief Business Development Officer Yashas Sumanasekera and Ticket Gadget Head of Operations Keshini Perera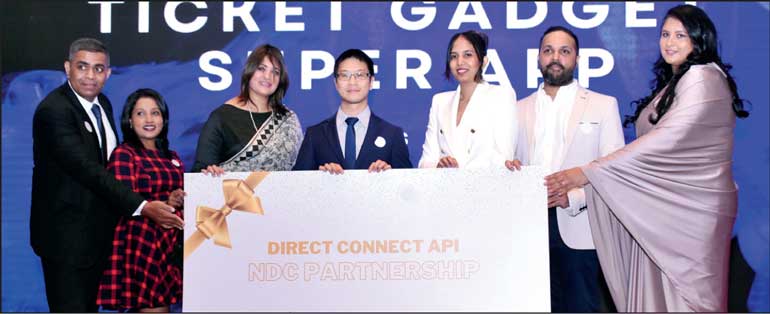 From left: Singapore Airlines Sales Manager Shan Perera, Singapore Airlines Senior Executive Corporate Sales Nelka Perera, Singapore Airlines General Manager Passenger Sales Radini Fernando, Singapore Airlines Sri Lanka General Manager Zac Liew, Ticket Gadget Co-Founder/Chief Executive Officer Dr. Harshani Perera, Ticket Gadget Co-Founder/Chief Business Development Officer Yashas Sumanasekera and Ticket Gadget Head of Operations Keshini Perera
Key partnerships with 9 giants in the air travel industry, including Singapore Airlines, MasterCard and Emirates
Sri Lanka's largest online travel consolidator, the super app 'Ticket Gadget', recently celebrated two years of operations and multiple accolades acquired in this short time span, at an event attended by representatives of the local and global air travel industry at Shangri-La Colombo.

A highlight at the event was Ticket Gadget's announcement of nine key partnerships with industry giants, a testament to the super app's impact on the air travel industry and its success since its inception during the pandemic in 2020.

The partnerships announced were with Singapore Airlines, Emirates, Qantas, MasterCard, Oman Air, British Airways, FlyDubai, Jazeera and FitsAir.

Ticket Gadget was also the recipient of many endorsements by the airlines and industry partners. Malaysia Airlines Sales Manager Sajith Amarasekera added: "Ticket Gadget has made great strides – they have used technology very well and made a real difference in the air travel industry. I think it's correct to say that they have basically revolutionised the air travel industry."

Ticket Gadget's approach to identifying and addressing the issues faced by an audience crucial to Sri Lanka's travel industry, during an extremely challenging time, has paid off. As observed by Mack Air John Keells's Airline Division CEO Shaminda Fernando: "Ticket Gadget›s innovation in the online space, has managed to capture the market very well, both the B2B and B2C segments and due to that, they have been the market leader."

Co-Founder Dr. Harshani Perera stated: "Today is not just about us celebrating our achievements, it's about us celebrating the extraordinary work we have been doing to revolutionise and move the travel industry forward in Sri Lanka."

Its success in alleviating the problems has seen the platform generate over Rs. 1 billion in monthly sales, becoming Sri Lanka's largest online travel consolidator and the largest revenue generator for most airlines. Ticket Gadget also became the overall largest revenue generator in the IATA BSP Sri Lanka market in December 2022.

As a start-up, Ticket Gadget also embodies the innovation and zeal Sri Lanka's start-up ecosystem needs to have, to uplift the country's economy – points which were highlighted by Dialog Axiata PLC Group Chief Customer Officer and SLASSCOM Past Chairperson Sandra De Zoysa.

She underscored the importance of entrepreneurs such as Dr. Harshani and Yashas to accelerate economic development, disrupt industries, and create employment, through the creation of progressive new products and services. nVentures PTE LTD Managing Partner Chalinda Abeykoon and FitsAir Director Ammar Kassim also featured as guest speakers at the event.

A ground-breaking travel platform, Ticket Gadget was born of the chaos that ensued in 2020, when the global travel industry hit rock bottom. The brainchild of the Inqbaytor Founders Dr. Harshani Perera and Yashas Sumanasekara, Ticket Gadget was the duo's way of leveraging technology to reset, reposition and thrive.

Its target audience interestingly was not the end-consumers but instead, travel agents and corporate travel managers. Ticket Gadget is not limited to traditional Global Distribution System (GDS) content, but also distributes IATA NDC and direct airline inventories.

Today, the super app Ticket Gadget is the preferred option among Sri Lankan travel agents and corporates for booking air tickets, hotels, tours, and car hires more efficiently and conveniently, with zero set-up costs.

It aims to help overcome common barriers to entry faced by travel agents and focuses on giving its users a seamless, easy-to-use experience, and the independence to issue tickets instantly at any given time, on their own, from anywhere, with access to the best market prices. Ticket Gadget is a registered trading name of Inqbaytor Group.