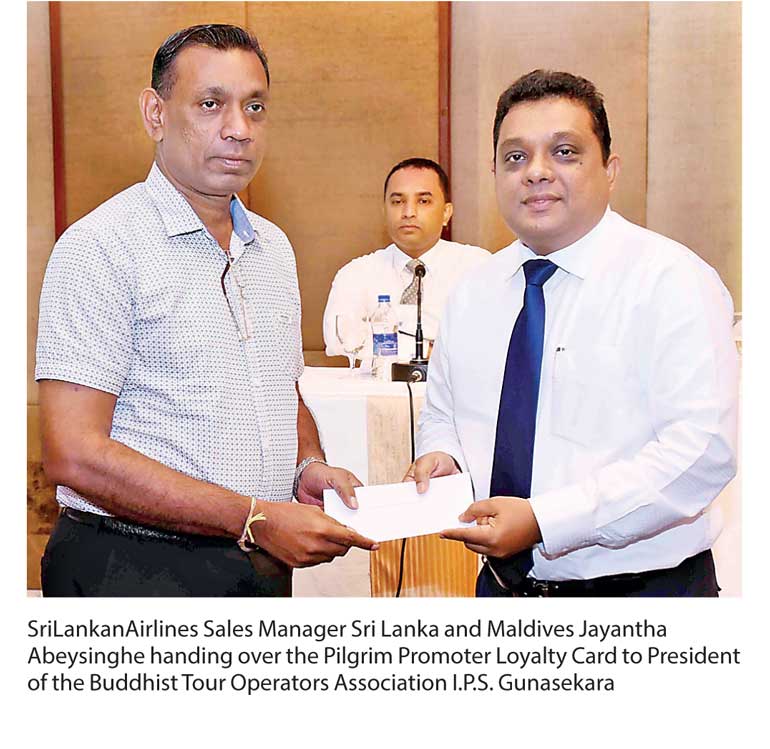 SriLankan Airlines launched a unique and concerted effort to better facilitate the air travel arrangements of the large number of Sri Lankans who embark on overseas pilgrimages, with a program by its Sri Lanka Sales Department to recognise and build closer relationships with the organisers of pilgrimages across the country.

Thousands of pilgrims from all of Sri Lanka's many religions travel overseas, notably Buddhists to Bodh Gaya and Varanasi in India. Buddhist pilgrim traffic alone is estimated at more than 60,000 persons annually. SriLankan carries a greater portion of this traffic, in addition to carrying in pilgrims and other visitors to Sri Lanka's own religious festivals such as the famed Esala Perahera in Kandy.

While many of Sri Lanka's outbound travel agents directly organise pilgrimages, there are a large number of members of the clergy and lay persons who also carry out such organising activities, including more than Buddhist pilgrim promoters who are registered as such with the Ministry of Buddha Sasana.

As a decisive step towards strengthening its long-term relationships with pilgrim promoters of all faiths, Sri Lanka's National Carrier organised a mini-convention for over 150 Buddhist pilgrimage organisers from across the country, at Colombo's Ramada Hotel on 23 March. The program will shortly be extended to cover Sri Lanka's other religious faiths.

Pilgrim promoters from as far afield as Medawachchiya and Anuradhapura attended the event, including the three main Buddhist societies that are involved in Buddhist pilgrimages. Staff from the airline's Sri Lanka Sales department were on hand to discuss all aspects of the organising of pilgrimages, and all special concerns and issues were duly noted. The event included a vibrant question and answer session, followed by a luncheon.

SriLankan presented the participants with special 'Pilgrim Promoter Loyalty Cards', each personalised with their individual names, addresses and a unique membership number. This will enable the pilgrim promoters to interact directly with the National Carrier with regard to their requirements, such as catering preferences and special services at airports and on board flights. They would also continue to work through their respective travel agents who would do the ticketing.

Sri Lanka's Buddhist pilgrims utilise the National Carrier's position of being the largest foreign carrier into India, with 135 weekly frequencies, to travel to holy sites via SriLankan's destinations such as Bodh Gaya, Varanasi, New Delhi, Chennai, Calcutta, Hyderabad, Vishakhapatnam and Bangalore.

SriLankan Airlines operates a route network of 105cities in 47countriesfrom its hub in Colombo, with a fleet of modern aircraft with the latest comforts such as flatbeds in Business Class and sophisticated in-flight entertainment, to complement its world class service that is famed for the qualities of caring and warmth. As a member of the prestigious oneworld global airline alliance, SriLankan also connects its passengers to over 1,000 cities in 160 countries around the globe through its oneworld partner airlines.

SriLankan has in recent times been honoured with a series of global and regional accolades. These include a prestigious Four Star Rating from the Airline Passenger Experience Association (APEX); 'World's Leading Airline to the Indian Ocean' for two consecutive years at the World Travel Awards; 'Best Full Service Airline in Central & South Asia' for three consecutive years at the Future Travel Experience Asia Awards 2017; 'Leading International Airline' and 'Best in Class' at the South Asian Travel Awards 2017; and 'Innovation in Commercial Airline Cabins' at the In-flight Asia Pacific Awards.

Its latest accolades were three awards at Golden City Gate Awards 2018 at ITB Berlin, the world's largest tourism trade fair.Other recent awards include 'Best International Airline - Asia' for two consecutive years at the Tamil Nadu Tourism Awards; 'Most Innovative Marketing Airline in China' by Life Weekly magazine; and 'Best Airline in South Asia' at the Top Travel Awards, also in China.