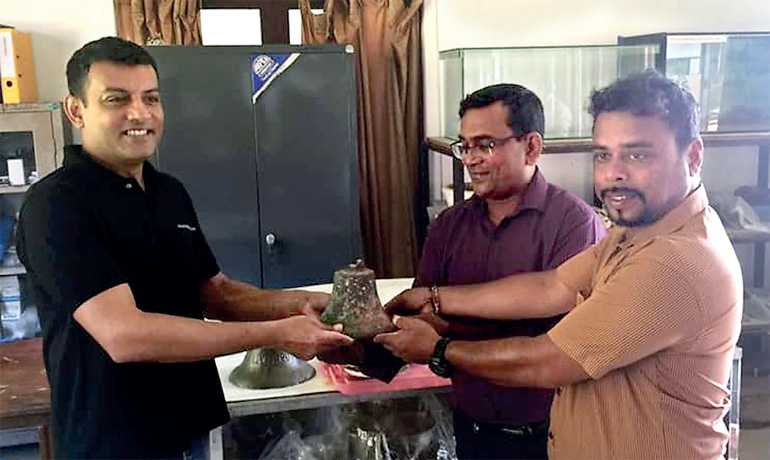 Dharshana handing the bell to Chandraratne Wijamunige, the keeper of the Galle Maritime Archaeology Museum, and another officer who will oversee its restoration to be displayed at the Museum
---
Worldwide, shipwreck diving is a multimillion dollar industry and many countries in South Asia, such as Maldives, Indonesia, Malaysia and Philippines adeptly earn substantial foreign revenue by protecting and promoting marine tourism assets diligently. In comparison, Sri Lanka has a vast untapped potential to develop shipwreck diving tourism, an area not yet fully promoted to the world.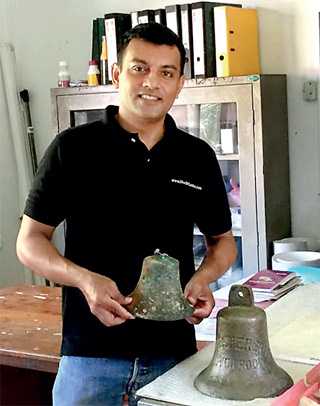 Dharshana Jayawardena with the two bells discovered by him
"There are at least 100 shipwrecks at SCUBA divable depths, many more are yet to be discovered," says Dharshana Jayawardena, Sri Lanka's pioneering underwater explorer. He was instrumental in finding and identifying the British merchant-navy vessel SS Worcestershire, off the deep seas of Mt. Lavinia, sunk by a top-secret German naval vessel called the SMS Wolf on 17 February 1917.

In his book 'Ghosts of the Deep – Diving the shipwrecks of Sri Lanka', Dharshana also details over 40 shipwrecks that have high tourism value to Sri Lanka.

Very recently in March 2019, Dharshana identified the location of another century old British merchant vessel, the SS Perseus off the coast of Modara. The SMS Wolf also sank it, on 21 February 1917. Having found the bell of the ship, which is the best way to identify the authentication of a shipwreck, Dharshana stated, "During World War 1, a top-secret German naval vessel called the SMS Wolf successfully completed an epic voyage that lasted 15 months. During this time, the Wolf sailed for thousands of nautical miles covering the Atlantic, Indian and Pacific oceans, and captured or sank almost 30 vessels, over 114,000 tons of shipping, before triumphantly returning to Kiel, Germany with pirated bounty and hundreds of prisoners."

Dharshana first stumbled on this fascinating story during his research into two deep and unknown shipwrecks, approximately 15 kilometres West of Mount Lavinia and Modara, had his first break in March 2014, when in one of his many dives to the shipwreck off Mount Lavinia, found a bell in the wreck that read SS WORCESTERSHIRE LIVERPOOL.

Having identified the first victim of the SMS Wolf, Dharshana next focused on the other wreck in the deep seas 17 kilometres west of Modara, where in March 2019, on a dive searching a seemingly uninteresting area of the wreck, he stumbled on a bell. It read SS PERSEUS LIVERPOOL, thereby positively identifying the SS Perseus, the second victim of the SS Wolf.

In the wake of these discoveries, Dharshana has been invited as a key note speaker, to highlight his discoveries at ADEX, Asia's annual premier dive conference, to be held in Singapore; from 12-14 April. Dharshana will speak among world's top diving experts, including personalities such as world record holder for deep diving Ahmed Gabr and expert technical diver Ritchie Kohler, the host of History Channel's 'Deep Sea Detectives'. Thus, this opportunity will help promote Sri Lanka as a leading Asian wreck dive destination to the community of over 60,000 divers in the world that attend the conference every year .

Currently both bells has been handed over to the Maritime Archaeological Unit (MAU) in Galle. Dharshana hopes that an exhibit in the Maritime Museum will be declared open to depict the story of the SMS Wolf, and the World War 1 impacts on maritime history of Sri Lanka along with these two valuable artefacts. "It will be a great value addition to the museum as well as elevate the tourism potential of wrecks in Sri Lanka as both these wrecks are in divable depths for SCUBA divers. Divers really love to dive shipwrecks that have an amazing story behind them, and it is hard to beat the exploits of SMS Wolf and the plight of her victims," commented Dharshana.