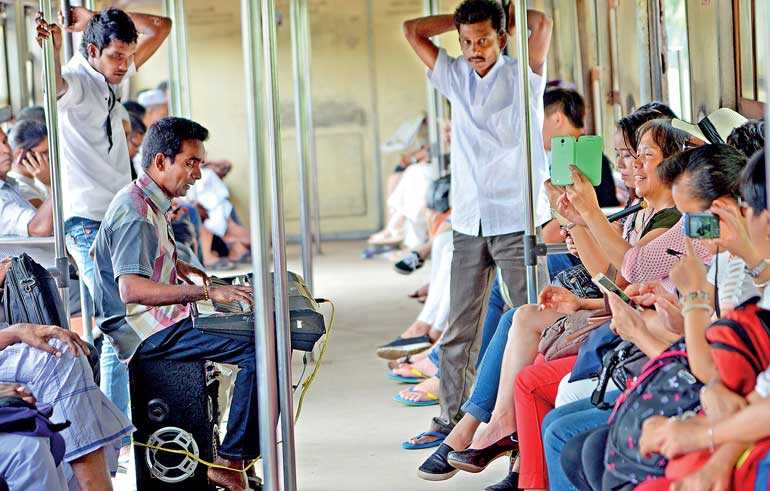 Though for the general public it seems more likely that the Sri Lankan tourism industry is doing well, it is a hard fact that Sri Lanka has been lagging behind in pace of improvement compared to its regional peers and main competitors – Pic by Shehan Gunasekara
---
By Sanira Waas
The Sri Lankan tourism industry has been given a significant attention in the country as it holds the place as the third largest export earner in the economy, after remittances and textiles and garments.
It is inevitably true that the tourism industry has ripple effects in the economy, as around 5% of the total employment is directly accounted by the tourism sector and nearly 10% of the employment of the country has induced effects of tourism industry.
With a Rs. 1,518.8 billion of total contribution to GDP in 2017 and with 2.3 billion international visitor arrivals in 2018, Sri Lanka was heading to a target of 2.5 billion arrivals by the end of 2019 (approximately 1.9 billion as at 31 December 2019).
The Sri Lanka Tourism Development Authority (SLTDA) with the Ministry of Tourism and Christian Religious Affairs guide the industry with the vision of ''being recognised as the world's finest island for memorable, authentic and diverse experiences" and targets a transformation with improved quality and standards.
It is desired to be identified as a high-value destination offering extraordinary experiences that reflect Sri Lanka's natural and cultural heritage, are socially inclusive and environmentally responsible, and provide economic benefits to communities and the country.
Are we really doing fine?
Though for the general public it seems more likely that the Sri Lankan tourism industry is doing well, it is a hard fact that Sri Lanka has been lagging behind in pace of improvement compared to its regional peers and main competitors. Sri Lanka could only secure the 77th global position in the Travel and Tourism Competitiveness Index in 2019 by World Economic Forum, recording the only decrement in South Asia compared to 2017 by 13 positions, while India ranked 34th globally and has been identified with a significant improvement of six positions.
Further regional competitors like Singapore (rank 17th), Malaysia (29th), Thailand (31st), Indonesia (40th) and even Vietnam (63rd) have ranked well ahead of Sri Lanka with improvements from 2017 to 2019 depicting how the Sri Lankan travel and tourism industry has failed to compete in the global tourism arena (except Singapore which has dropped four rankings). It is understood that the country should be much concerned with the development of the tourism industry as a whole in compared with the regional competitors while referring to the success stories in the global context.
Yet SLTDA has set high optimistic targets for 2020 and is expected that tourism would earn $ 7 billion and to increase daily visitor spending per visitor to $ 210 by 2020. These targets have been a mere Christmas wish list when we dig deep into the current statistics of the industry and when looking at the major strategies implemented by the SLTDA and other responsible reputed Government ministries and institutes.
It is more likely that this set target of $ SD 7 billion tourism receipts in 2020 can only be achieved with a congruent strategy of increasing per day visitor expenditure, nights spent in the country and tourist arrivals to the country.

Where have we gone wrong?
Even being ranked among top destinations to visit by numerous global recognised websites and even with thousands of reviews by the travel vloggers and bloggers, Sri Lanka tourism is not moving forward with the pace of the global market. This concretes the doubt that there is something which has gone significantly wrong. Is it because the country lacks natural scenic beauty or is there something to do with the administration and operational aspect of the industry?
With last year's traumatic Easter Sunday attacks, most of the general public in the country made it the excuse for the lag we see today in the tourism industry. Though a significant impact was made with that tragic incident, it is unfair to critique it as the main cause for this situation. The statistics until 2018 and the TTCI rank depict where we stand and the fact that we are too far behind the competitiveness in the global market and will deny the fact that this is all because of Easter Sunday attacks.
Other than one-off unexpected incidents, the Sri Lanka tourism industry lags behind due to its own failures associated with the tourism service providers and Government policymakers. No one can blame the other as they being the main parties are liable for this under performances and inefficiency we see in the industry.
Also it is difficult to clear the doubt of whether the vision and strategies of SLTDA have not been communicated properly to other stakeholders in the industry or that the well-communicated vision and goals are not being considered significantly by the tourism service providers and other stakeholders in the industry. However, the lack of congruency towards one goal and a vision as an industry has been the main reason behind this slow-paced improvement of tourism industry, which has increased vulnerability within the industry.
What can we do to tap the untapped potential?
Role of the policy maker
Visitor understanding – It is a must that the SLTDA and other reputed institutes should be engaged with comprehensive and extensive research to identify and understand the visitor. As visitors are the key for success, they should be understood on what is and what is not expected by international visitors who travel to Sri Lanka. Currently a KIOSK self-survey and a pre-set questionnaire is filled at the departure terminal of the Bandaranaike International Airport by SLTDA, which captures only a very limited number of visitors in compared to total arrivals. As more than 50% of the international tourists visit Sri Lanka with the influence of review of recommendations by friends and relatives and by the influence of the internet, it is a must that we deliver a memorable experience to each one of them. As a best case practice, Thailand is trying to use AI technology and big data in analysing visitor behaviour with its novel establishment of Tourism Intelligent Centres.

Market development and promotion – Currently Sri Lanka is relying majorly on the visit of Chinese and Indian tourists (nearly 30%). As Sri Lanka is primarily visited because of its sun and beaches and natural scenic beauty, it is safe to attract more tourists from Middle East, Western Europe and America so that we have a diversified portfolio in the market. Alternative markets should be taken into consideration to tackle the off season in the tourism calendar (Malaysia and South Korea). It would also be appropriate if we can narrow down it to a very specific target market when it comes to marketing and promotional work. As an example, Singapore is targeting more on working millennials and families with young kids so their product development and marketing is aligned with their target audience. Many industry experts suggest that the Sri Lanka should be branded with a much more powerful tagline compared to other nations by highlighting our uniqueness, authenticity and diversified culture rather than mere saying 'So Sri Lanka' (Amazing Thailand, Wonderful Indonesia, etc).

Product development and diversification – This strategy could be highly useful in order to address the facets of increasing per day visitor expenditure and their length of stay.

Development and diversification of recreational facilities – as studies say that modern-day tourists expect an experiential tourist experience, Sri Lanka too should introduce and develop such destination attractions rather than mere showcasing and selling what nature has gifted us. As an example though countries like Singapore and Hong Kong lack natural scenic beauty, they attract millions of tourists every year all because of the well-developed and diversified tourism products. Universal Studios in Sentosa and Disneyland have been among the top tourist attractions which generate thousands of foreign revenue to those countries. Also Thailand and Vietnam have been leading threats to Sri Lanka tourism as they showcase the countries' natural beauty in a much more experiential manner than what we deliver here.

Development of information facilities – It is a fact that the international tourists are often misled or exploited by locals and other tourism service providers due to dissemination of wrong information. It is a must that policy makers should be concerned to provide right information to them and standardise the tour guide service of the country. As a good case practice we can see how Thailand is developing 76 Tourist Assistant Centres around major tourist attractions of the country so that they can get the advantage of AI and big data in near future.

Supportive infrastructure development of the country – This has been one of the critical aspects when determining the overall experience of an international visitor. As an example the public transport system, traffic congestion and pollution have been factors which trigger a dissatisfying experience for the tourists. Policy makers should develop strategies to develop the tourism industry in the country but that they should possess and create strategies to develop the entire inclusive economic system which would create a hassle-free surrounding with a much more decent living standard of the community.
Role of tourism service providers
Sticking to the basics – All the stakeholders and service providers of the tourism industry should be keen and mindful enough to provide a satisfying and a memorable experience to all visitors who visit Sri Lanka. They should deliver a high quality service with much hospitality. Also as most tourists complain about the exploitation and discrimination they face by service providers (especially by tuk-tuk drivers and tour guides), it is a must that they should treat them with equity and courtesy. Also it is undoubtedly true that the development of the tourism industry is highly dependent upon the righteous attitudes and perceptions of the tourism service providers of the country.

Made in Sri Lanka – Every stakeholder and individual in the industry should be the ambassador of the campaign 'Made in Sri Lanka' where we should add value to our visitors while highlighting our own uniqueness, authenticity and diversity of our nation with our tourism products and services.
The Sri Lanka tourism industry and our unique destination attractions have got a lot more to offer and have the potential to generate more foreign revenue to the country. But these goals are not things which can solely be achieved by SLTDA and it is a must that every corner of the country should feel that tourism industry as the next level gateway to the world as the Sri Lankan textile and garment industry will lose its competitiveness to the Africans.
If the entire country could get along with one vision and strategy, it is not too far that Sri Lanka would be branded as a world's top high-end tourist destination which would eventually benefit every economic layer of the pyramid of the country.
[The writer is a final year Management Undergraduate of the Department of Business Economics, Faculty of Management Studies and Commerce, University of Sri Jayewardenepura. He has a first-class degree specialising in Business Economics and Advanced Diploma in Management Accounting (CIMA-UK).]